Review

Open Access

Open Peer Review
This article has Open Peer Review reports available.
Perspectives on the design and methodology of periconceptional nutrient supplementation trials
Received: 20 March 2015
Accepted: 15 December 2015
Published: 30 January 2016
Abstract
Periconceptional supplementation could extend the period over which maternal and fetal nutrition is improved, but there are many challenges facing early-life intervention studies. Periconceptional trials differ from pregnancy supplementation trials, not only because of the very early or pre-gestational timing of nutrient exposure but also because they generate subsidiary information on participants who remain non-pregnant. The methodological challenges are more complex although, if well designed, they provide opportunities to evaluate concurrent hypotheses related to the health of non-pregnant women, especially nulliparous adolescents. This review examines the framework of published and ongoing randomised trial designs. Four cohorts typically arise from the periconceptional trial design — two of which are non-pregnant and two are pregnant — and this structure provides assessment options related to pre-pregnant, maternal, pregnancy and fetal outcomes. Conceptually the initial decision for single or micronutrient intervention is central — as is the choice of dosage and content — in order to establish a comparative framework across trials, improve standardisation, and facilitate interpretation of mechanistic hypotheses. Other trial features considered in the review include: measurement options for baseline and outcome assessments; adherence to long-term supplementation; sample size considerations in relation to duration of nutrient supplementation; cohort size for non-pregnant and pregnant cohorts as the latter is influenced by parity selection; integrating qualitative studies and data management issues. Emphasis is given to low resource settings where high infection rates and the possibility of nutrient-infection interactions may require appropriate safety monitoring. The focus is on pragmatic issues that may help investigators planning a periconceptional trial.
Keywords
PericonceptionalPregnancyPlacentaIronFolic acidMicronutrientsAdherence
Background
Trials of periconceptional folic acid supplementation to reduce neural tube defects [1, 2] and of iodised oil administered early in pregnancy to avoid cretinism [3] identified the major influence on clinical outcomes of maternal nutritional status during the first trimester of pregnancy. Since these early studies, many trials have been conducted, mostly with second and third trimester nutrient supplementation [4]. The majority have compared iron plus folic acid supplementation with interventions using variable compositions of micronutrients and vitamins. Meta-analyses and systematic reviews of clinical outcomes have reported varied results, from null effects on neonatal mortality [5] to improvement in general health indicators such as birth weight. Most showed no differences in the risk of pre-term birth, stillbirth, maternal or neonatal outcomes [6], with conflicting results for infant mortality reductions [7]. Null effects [8] or varied findings were reported for fetal growth restriction [8, 9]. Importantly, an increased risk of neonatal death was reported with multimicronutrient compared with iron/folate interventions after the first trimester of pregnancy [6, 10]. The evidence to support daily iron and folate supplementation in pregnancy is based mainly on its beneficial effects on maternal anaemia [11, 12], with micronutrients providing no additional benefit on third trimester maternal anaemia compared with iron-folic acid alone [9, 13].
None of the above trials started with mechanistic hypotheses. Improved understanding of nutritional intermediate pathways could explain differences between trials in fetal and pregnancy outcomes, but this requires integrated placental and biomarker studies and infection profiling from early in gestation [14]. Critical nutritional periods in early pregnancy include the pre-embryonic and embryonic developmental stages. If a nutrient exposure during these periods is associated either positively or negatively with the postulated clinical outcome, a causal pathway is implicated. Periconceptional trials re-focus attention on the fetal growth effects of placental vascularisation and function and the mechanisms determining fetal and placental phenotypes [15, 16]. Recently described effects of maternal overweight on cardiometabolic disease risk in the offspring on later adult disease indicate that early gestational nutritional influences can have lifelong effects [17]. Given that the periconceptional use of nutrition supplements has been assessed in few controlled trials [18], their mechanistic basis is even less evident.
In view of the potential importance of pre-pregnancy supplementation, this paper outlines several aspects related to the framework of periconceptional supplementation trials, including: underlying mechanistic hypotheses; single and multimicronutrient supplementation as alternative trial interventions; sample size considerations in relation to duration of nutrient supplementation, cohort size and composition; outcome measurement options and characteristics; design options, with comparison of published and current study designs, outcome assessments and supplement adherence; the role of qualitative studies within trial designs and data management options. Without improved insights into the nature and conduct of these studies there is a risk that they will yield confusing results. Statistical issues specific to data analysis are not included in the review, as these are trial specific.
The main emphasis is on developing countries where nutritional deficiencies are common and adolescents give birth while still growing [19]. Trying to improve nutrition before the first pregnancy is attractive, especially if this helps to optimise nutrient requirements throughout pregnancy.
Review
Methods
We identified published studies using PubMed and Scopus search engines and the Cochrane Central Register of Controlled Trials (CENTRAL; The Cochrane Library). Search terms included micronutrient supplements, periconceptional period, placentation, embryogenesis, pregnancy outcomes, birth weight, growth restriction, iron, folic acid, and micronutrients. For identification of randomised controlled trials or prospective cohort studies we identified human studies on periconceptional interventions with nutrition supplements covering the period 1950 to July 2015 with no language restriction. Information from recent meta-analyses and systematic reviews addressing the periconceptional period, pre-conception, or pre-pregnancy nutrient supplement interventions was reviewed. Ongoing randomised trials with published or available methodologies but still awaiting trial closure were included. Observational studies were excluded, unless population based, as these may be confounded by baseline differences in the prevalence of one or more nutrient deficiencies. Figure
1
shows the PRISMA flow diagram, and Table
1
lists the study inclusion and exclusion parameters. Animal studies to identify biological mechanisms for nutritional regulation of fetal growth and gestational length were reviewed to identify mechanistic hypotheses.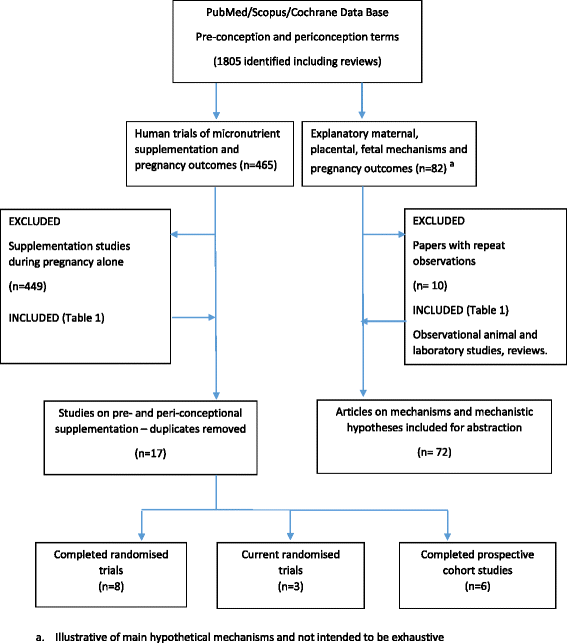 Table 1
Study inclusion and exclusion parameters
| Study inclusion parameters | Study exclusion parameters |
| --- | --- |
| - Human studies from 1950 to July 2015, with no language restriction | - Studies with nutrient interventions commencing during, but not before pregnancy |
| - Blinded and unblinded randomised trials | - If time of intervention was unclear |
| - Community-/population-based studies | - Poorly defined control or comparison groups |
| - Ongoing randomised trials studies with published methodologies, but awaiting trial closure | - Observational human studies |
| - Clear definition of nutrient intervention | |
| - Indication of period of periconceptional supplementation | |
| - Definition of outcome variables (maternal, fetal, or infant outcomes). | |
| - Studies in non-pregnant women prior to ascertainment of pregnancy | |
| - Starting early in first trimester up to 28 days after last menstrual period | |
| - Individually randomised or population-based studies | |
As definition of the periconceptional period varied across studies, here it has been defined as taking supplements before, or at the time of, the last menstrual period prior to conception, and up until the end of the first trimester. Overall quality of evidence for outcomes was not graded, as the purpose of this review was to assess methodological frameworks, and not the quality of the evidence for a particular outcome. For the majority of cohort studies published, grading schemes for quality of evidence had previously been applied [6].
Conclusions
There are many challenges facing early-life intervention studies, and trials in developing countries will have operational requirements which are context specific, and likely to be dependent on the literacy rate in the study population. This review has focussed on pragmatic issues that we hope can be drawn upon and expanded as experience grows with more completed studies. Periconceptional trials are distinguishable from pregnancy supplementation trials, not only because of the early gestational timing of nutrient exposure, but also because they generate a subsidiary trial in participants who remain non-pregnant. This provides an opportunity to evaluate concurrent hypotheses related to the health of women who may become pregnant. An expanded framework for conceptualisation, design, and implementation is required in order to reduce risks in achieving outputs, strengthen trial integrity, facilitate replication and data exchange and reduce costs. Basing trial design on a mechanistic hypothesis is an important pre-requisite which relates to the choice of a single or multiple micronutrient intervention. Micronutrient interventions are relevant across the entirety of a women's reproductive period, even more so in young nulliparae and grand multiparae [76]. Longitudinal reference values for biochemical markers are required in uncomplicated pregnancies to facilitate interpretation [77]. Iron would be a requirement of most periconceptional supplements, especially in developing countries, as many women enter pregnancy with inadequate iron stores [78]. Early pregnancy iron deficiency has been associated with poorer [79], and iron supplementation with better birth weight outcomes [80, 81], although questions remain concerning iron-infection interactions which may have an impact on safety under specific infection exposures [14]. Folate is a requirement in view of strong evidence for periconceptional use preventing neural tube defects. The rationale for multimicronutrient dosage and content needs to be clearly outlined, in order to establish a comparative framework, improve standardisation, and facilitate interpretation of mechanistic hypotheses.
Other issues identified include: rationalisation of the duration of supplementation; problems with excluding anaemic participants at baseline; influence of follow-up intensity on intervention adherence; and out-migration, particularly in adolescent cohorts. Research and practice recommendations include: utilising accurate fertility data for both sample size and supplement duration estimations; prioritising placental tissue sampling; establishing appropriate safety assessments incorporating infection risk; inclusion of an infant follow-up; utilisation of electronic case record forms on MACRO (Infermed); and qualitative concurrent assessments prior to and during trial implementation. Qualitative assessments are not solely theoretical, as trial results will not appeal to policy makers if they are not implementable. This is a particular issue with pre-pregnancy studies and in first pregnancies, as women unfamiliar with routine care may fail to comply with supplementation. This may re-direct efforts towards food fortification, which are less realistic in some low resource settings. With more comprehensive assessments the complexity of the work flow and processes executed by the field clinical investigator should not be underestimated.
The heterogeneity of studies included in this review, which covers both randomised trials and prospective cohort studies, limited comparability. There was a predominance of studies examining NTD outcomes following folate supplementation, and considerable variation in duration of supplementation across studies. These differences related partly to assessment of alternative study outcomes, but most were not rationalised in physiological terms. While this lack of uniformity limited comparability, it facilitated identification of methodological issues relevant to future trial conduct.
Abbreviations
AC:

arm circumference
AGP:

alpha-1-acid glycoprotein, acyl glycol-protein
AN:

antenatal
BP:

blood pressure
β-hCG:

beta human chorionic gonadotrophin
BMI:

body mass index
BV:

bacterial vaginosis
Ca:

calcium
Cu:

copper
CRP:

C-reactive protein
DHS:

Demographic Health Surveys
DNA:

deoxyribonucleic acid
FE:

iron
FL:

femur length
GCP:

Good Clinical Practice
Hb:

haemoglobin
HC:

head circumference
HIV:

human immunodeficiency virus
HPA:

hypothalamic-pituitary-adrenal axis
Ht:

height
I:

iodine
IDA:

iron deficiency anaemia
IPTp:

intermittent preventive treatment with sulfadoxine-pyrimethamine
K:

potassium
LBW:

low birth weight
LMP:

last menstrual period
Lt:

length
LTFU:

loss to follow-up
MCHC:

mean corpuscular haemoglobin concentration
MCV:

mean corpuscular volume
Mg:

magnesium
Mn:

manganese
MUAC:

mid-upper arm circumference
NIH:

National Institutes of Health (USA)
NTD:

neural tube defects
P:

phosphate
P1:

P2, P3, parity one, two, or three
PAI:

plasminogen activator inhibitor
PAPP-A:

plasma protein A
PLGF:

placental growth factor
PTB:

pre-term birth
RBC:

red blood cell
RNA:

ribonucleic acid
SB:

stillbirth
Se:

selenium
STI:

sexually transmitted infection
sTfR:

serum transferrin receptor
T0:

temperature
UtAPI:

uterine pulsatility index
UtARI:

uterine artery resistance indices
WIFS:

weekly iron and folic acid supplementation
Declarations
Acknowledgements
We wish to acknowledge the financial support of the National Institutes of Child Health and Development/Gates Foundation, and the NIH Office of Dietary Supplements for support for the periconceptional trial 'Malaria risk prior to and during early pregnancy in nulliparous women receiving long-term weekly iron and folic acid supplementation (WIFS): a non-inferiority randomised controlled trial' (PALUFER) (NICHD grant number NIH-1U01HD061234-01A1). We are grateful to Raffaella Ravinetto and Celine Schurmans of the Clinical Trials Unit, Institute of Tropical Medicine, Antwerp and Isidore Traore for their efforts on trial monitoring activities.
Open AccessThis article is distributed under the terms of the Creative Commons Attribution 4.0 International License (http://creativecommons.org/licenses/by/4.0/), which permits unrestricted use, distribution, and reproduction in any medium, provided you give appropriate credit to the original author(s) and the source, provide a link to the Creative Commons license, and indicate if changes were made. The Creative Commons Public Domain Dedication waiver (http://creativecommons.org/publicdomain/zero/1.0/) applies to the data made available in this article, unless otherwise stated.
Authors' Affiliations
(1)
Clinical Division, Liverpool School of Tropical Medicine, Liverpool, UK
(2)
Global Child Health Group, Academic Medical Centre, University of Amsterdam, Amsterdam, The Netherlands
(3)
Department of Biomedical Sciences, Institute of Tropical Medicine, Antwerp, Belgium
(4)
Northumbria Healthcare NHS Foundation Trust, North Shields, UK
(5)
Clinical Sciences Department, Institute of Tropical Medicine, Antwerp, Belgium
(6)
Medical Research Council Unit (MRC), Fajara, The Gambia
(7)
London School of Hygiene and Tropical Medicine, London, UK
(8)
Institute of Tropical Medicine, Antwerp, Belgium
(9)
Clinical Research Unit of Nanoro (URCN/IRSS), Nanoro, Burkina Faso
(10)
Institute of Cancer Sciences, University of Manchester, Manchester, UK