Study protocol

Open Access

Open Peer Review
This article has Open Peer Review reports available.
Outcome Measures in Rheumatology - Interventions for medication Adherence (OMERACT-Adherence) Core Domain Set for Trials of Interventions for Medication Adherence in Rheumatology: 5 Phase Study Protocol
Ayano Kelly

1, 2, 3, 4

Email author

View ORCID ID profile

,

Vicki Evans

11,

Rieke Alten

18,

Willemina Campbell

21,

Michael Gill

24,

Renske Hebing

25,

Alexa Meara

26,

Robby Nieuwlaat

27,

Yomei Shaw

28,

Maria Suarez-Almazor

32,

Robin Christensen

36,

Maarten de Wit

40,

Peter Tugwell

41 and

On behalf of the OMERACT-Adherence Group
Received: 29 November 2017
Accepted: 28 February 2018
Published: 27 March 2018
Abstract
Background
Over the last 20 years, there have been marked improvements in the availability of effective medications for rheumatic conditions such as gout, osteoporosis and rheumatoid arthritis (RA), which have led to a reduction in disease flares and the risk of re-fracture in osteoporosis, and the slowing of disease progression in RA. However, medication adherence remains suboptimal, as treatment regimens can be complex and difficult to continue long term. Many trials have been conducted to improve adherence to medication. Core domains, which are the outcomes of most relevance to patients and clinicians, are a pivotal component of any trial. These core domains should be measured consistently, so that all relevant trials can be combined in systematic reviews and meta-analyses to reach conclusions that are more valid. Failure to do this severely limits the potential for trial-based evidence to inform decisions on how to support medication adherence. The Outcome Measures in Rheumatology (OMERACT) – Interventions for Medication Adherence study by the OMERACT-Adherence Group aims to develop a core domain set for interventions that aim to support medication adherence in rheumatology.
Methods/design
This OMERACT-Adherence study has five phases: (1) a systematic review to identify outcome domains that have been reported in interventions focused on supporting medication adherence in rheumatology; (2) semi-structured stakeholder interviews with patients and caregivers to determine their views on the core domains; (3) focus groups using the nominal group technique with patients and caregivers to identify and rank domains that are relevant to them, including the reasons for their choices; (4) an international three-round modified Delphi survey involving patients with diverse rheumatic conditions, caregivers, health professionals, researchers and other stakeholders to develop a preliminary core domain set; and (5) a stakeholder workshop with OMERACT members to review, vote on and reach a consensus on the core domain set for interventions to support medication adherence in rheumatology.
Discussion
Establishing a core domain set to be reported in all intervention studies undertaken to support patients with medication adherence will enhance the relevance and the impact of these results and improve the lives of people with rheumatic conditions.
Keywords
Core domain setOutcomes researchPatient-centred outcomesClinical trialsRheumatologyMedication AdherenceAdherenceCompliancePersistence
Background
Musculoskeletal conditions are a major cause of disability worldwide and a burden on individuals and health-care systems [1]. Advances in drug development throughout the 21st century have led to a dramatic improvement in outcomes for patients with rheumatic conditions [2, 3]. Conditions such as gout, osteoporosis and rheumatoid arthritis (RA) are amongst the most common rheumatic conditions that require long-term use of medications to improve morbidity, mortality and other health outcomes [4–7]. However, rates of medication adherence have been reported to be as low as 10% in gout, 30% in RA and 45% in osteoporosis [8–10]. Barriers to medication adherence include perceptual barriers (e.g. concerns about side effects and uncertainty regarding the efficacy of medications) and practical barriers (e.g. forgetfulness, inconvenience and cost) [11–14].
Researchers most commonly support the use of the word 'adherence' in preference to 'compliance' or 'concordance' [15, 16]. 'Adherence' highlights the outcomes of a shared decision-making approach where the patient and physician agree upon a treatment plan that the patient will follow [17]. 'Compliance' may portray a negative paternalistic relationship between the health-care provider and the patient [15]. 'Concordance' emphasises a balanced therapeutic alliance between the patient and the health-care provider [18]; however, even when 'concordance' is successful, patients may alter or decide not to take their medicine [18]. Thus, 'adherence' remains the preferred term. While non-pharmacological management is an important aspect of many rheumatic conditions, adherence to non-pharmacological management is currently beyond the scope of this study.
The ABC taxonomy of adherence [
15
,
19
] defines adherence as 'the process by which patients take their medications as prescribed' and comprises: (a) initiation (when the patient takes the first dose of a prescribed medication), (b) implementation (the extent to which a patient's actual dosing corresponds to the prescribed dosing regimen, from initiation until the last dose) and (c) persistence (the length of time between initiation and the last dose, which immediately precedes discontinuation,
i.e.,
when the patient stops taking the prescribed medication) [
15
]. The behaviour change wheel will be used to categorise intervention approaches relevant to improving adherence behaviours (
Appendix 1
) [
19
]. In the OMERACT-Adherence study, interventions may focus on any adherence phase (initiation, implementation or persistence), source of medication, adherence behaviour (capability, opportunity or motivation) and method (education, persuasion, incentivisation, coercion, training, restriction, environmental restructuring, modelling and enablement) (Fig.
1
).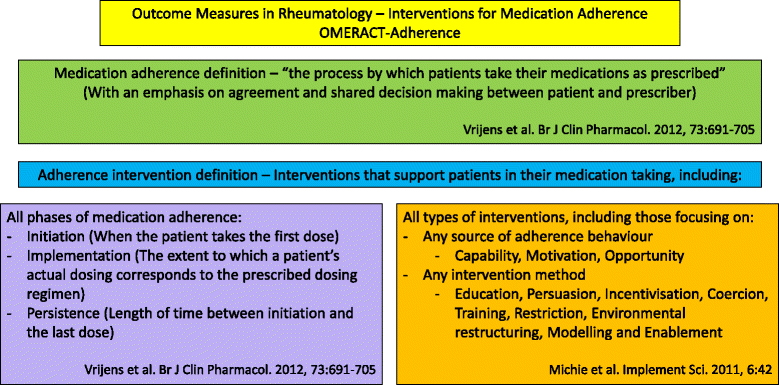 Adherence research plays an important role in bridging the chasm between recommended and best practice approaches to disease management to improve medication adherence. Clinical trials have been conducted in people with rheumatic conditions to resolve ambivalence and improve medication acceptance and adherence, and thereby enhance health outcomes [20]. Yet few interventions have demonstrated meaningful improvements in either medication adherence or clinical outcomes across medical specialties [20, 21]. A limitation in collating the results of these trials to identify successful interventions better is the lack of clarity of core outcomes and the wide variability in adherence measures. There is need for a consensus-based core domain set for interventions to improve medication adherence.
Worldwide, there have been many initiatives to develop core domain sets [22, 23], defined as the minimum set of outcome domains that should be measured and reported in clinical trials for a specific condition. The Outcome Measures in Rheumatology (OMERACT) initiative commenced in 1992 and has expanded to develop core domain sets in multiple rheumatic conditions [24]. There are now over 20 groups developing core domain sets for specific conditions [22, 25] and there are several methodological groups examining the core domains of interventions and measurements of outcomes that are relevant across rheumatic conditions, including health literacy, shared decision-making and work productivity [26–28].
The OMERACT-Adherence Group aims to establish a core domain set for clinical trials to support medication adherence in patients with rheumatic conditions of all ages (Fig.
2
). The OMERACT-Adherence Group was established in December 2016, and comprises over 40 members from 11 countries: Australia, Canada, Germany, Greece, the Netherlands, Singapore, the United Kingdom, Oman, Switzerland, Denmark and the United States. The members include patients, rheumatologists, nurses, pharmacists, behavioural scientists, occupational therapists, industry representatives, researchers in outcomes and medication adherence, and clinical trialists. The patient perspective is highly valued and integrated into all OMERACT activities, as the ultimate aim is to improve clinical outcomes for patients [
29
]. Patient research partners are members of the steering committee of the OMERACT-Adherence Group and help with the design, conduct, analysis and dissemination of all studies.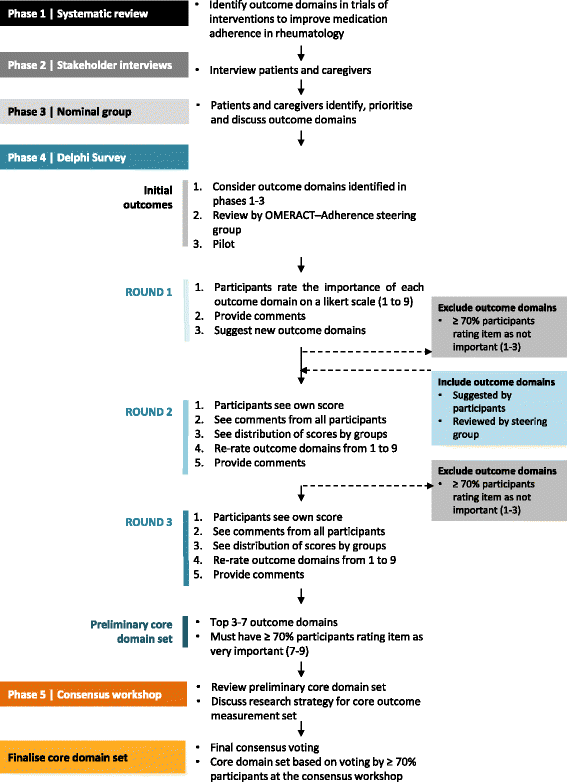 The five specific objectives of this OMERACT-Adherence study are to: (1) conduct a systematic literature review to describe the scope and consistency of domains used in rheumatology interventions addressing medication adherence; (2) identify additional domains that are important to patients and their caregivers and elucidate the reasons for their choices; (3) ascertain the perspectives of other stakeholders including health professionals, researchers, purchasers, payers, policymakers and industry representatives on core domains; (4) develop a preliminary core domain set for clinical trials with input from all stakeholder groups and (5) seek a consensus on the OMERACT-Adherence core domain set by a ballot of the OMERACT members.
Methods/design
The OMERACT-Adherence study methodology is adapted from the OMERACT framework, which is recognised as a valid approach for establishing a core domain set [
22
]. The protocol includes a SPIRIT checklist for recommended items to address in a clinical trial protocol and related documents (Additional file
1
). The proposed scope of work to achieve the five OMERACT-Adherence study objectives is outlined in Fig.
3
.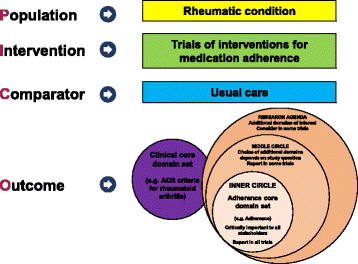 Discussion
OMERACT-Adherence will use a validated and systematic approach to develop a consensus-based core domain set that OMERACT will recommend is reported in all clinical trials of interventions aimed to improve medication adherence in paediatric and adult rheumatic conditions. The OMERACT-Adherence core domain set may be considered for other contexts including other specialties, and other types of studies such as observational studies in which medication adherence is a key requirement to ensure the optimal uptake of new medications. Once the OMERACT-Adherence core domain set has been ratified by OMERACT attendees, core outcome measurements for each of the core domains will be identified or developed as needed using the OMERACT filter to ensure that measures are truthful, discriminative and feasible [47]. Guidelines for selecting outcome measurements for core domains that have been developed by the Core Outcome Measures in Effectiveness Trials (COMET) and Consensus-based Standards for the Selection of Health Measurement Instruments (COSMIN) initiatives will also be used to guide this process [23, 48].
In addition to publications and research presentations, to facilitate the dissemination and uptake of the OMERACT-Adherence core domains set into clinical trials, national and international stakeholders will be consulted throughout the study phases and at an implementation workshop at the completion of the study. Ultimately, the standardised use of a consensus-based set of high-priority outcome domains will enable all stakeholders to make decisions about strategies to improve medication adherence.
Study status
Data collection and recruitment commenced for phases 1, 2 and 3 in October 2017. A time schedule has been adapted from the SPIRIT figure and is provided (Appendix 1). The OMERACT-Adherence five-phase study was registered on the COMET database on 27 November 2017 (http://www.comet-initiative.org/studies/details/1068). Any important amendments to the protocol will be discussed amongst the OMERACT-Adherence steering committee and submitted to the COMET database. The date of submission for this protocol (version 1) is 29 November 2017.
Abbreviations
ACR:

American College of Rheumatology
COMET:

Core Outcome Measures Effectiveness Trials
COSMIN:

Consensus-based Standards for the Selection of Health Measurement Instruments
OMERACT:

Outcome Measures in Rheumatology
RA:

Rheumatoid arthritis
RCT:

Randomised Controlled Trial
Declarations
Acknowledgements
We would like to acknowledge the contribution of the other OMERACT-Adherence Group members (Marieke Scholte-Voshaar, Khoula AlMaqbali, Annica Barcinella-Wong, Peter Cheung, Luke Crimston-Smith, Marita Cross, Rebecca Davey, Paul Emery, Kieran Fallon, Sarah Flint, David Graham, Stephen Hall, Susan Hermann, Helen Keen, Katerina Koutsogianni, Irwin Lim, Francois Nantel, Sean O'Neill, Clare O'Sullivan, Premarani Sinnathurai, and Biljana Zeljkovic).
Role of members of the OMERACT-Adherence Group
Fellow and chair: AK. Responsibility: Principal investigator and co-ordination of OMERACT-Adherence Group.
Steering group members: AT, KT, LM, MDV, VE, GH, KTA, BVB, Marieke Scholte-Voshaar, SJB, PT. Responsibilities: Major input into study design, collection, management, analysis, interpretation of data and writing of reports.
OMERACT supervisors: LM, PT. Responsibilities: Supervision of studies and ensuring studies follow OMERACT procedures.
Working group members: RA, WC, TD, MG, RH, AM, RN, YS, JAS, MSA, DS, PW, RC, DB, MdW, Khoula AlMaqbali, Annica Barcinella-Wong, Peter Cheung, Luke Crimston-Smith, Marita Cross, Rebecca Davey, Paul Emery, Kieran Fallon, Sarah Flint, David Graham, Stephen Hall, Susan Hermann, Helen Keen, Katerina Koutsogianni, Irwin Lim, Francois Nantel, Sean O'Neill, Clare O'Sullivan, Premarani Sinnathurai, Biljana Zeljkovic. Responsibilities: Input into study design, collection, management, analysis, interpretation of data and writing of reports.
Authorship eligibility guidelines
All studies will be submitted to peer-reviewed journals for publication. The Uniform Requirements for Manuscripts Submitted to Biomedical Journals criteria for authorship will be followed for all publications. No professional writers are intended to be used for publications.
Confidentiality
All digital recordings of interviews, focus groups and workshops will be de-identified, transcribed and deleted after transcription. Hard copies of transcripts, data analysis and participant information will be kept on a password-locked USB that will be kept in a locked cabinet in the Higher Degrees Research Office at the Australian National University (Florey Building 54 Mills Road, Acton ACT 2601, Australia). The data will be stored for 5 years, after which digital files will be deleted.
Ancillary and post-study care
All patient information forms contain contact details of the principal investigator and the Research and Ethics office, who are willing to discuss any medical problems that may be related to the project or concerns or complaints about the conduct of the study.
Funding
The OMERACT-Adherence Group receives funding from OMERACT, which will be used to support a patient research partner in the OMERACT-Adherence Group to attend the OMERACT conference. OMERACT (http://www.omeract.org, contact: secretariat admin@omeract.org) is the primary sponsor responsible for approving the initiation and overviewing the ongoing progress and management of the study. OMERACT mentors overview the design and conduct of the studies, including the interpretation of data and preparation, and review and approval of manuscripts.
The following funding organisations had no role in the design and conduct of the studies; collection, management, analysis and interpretation of the data; or preparation, review or approval of manuscripts. AK is supported by the Arthritis Australia Scholarship funded by the Allan and Beryl Stephens Grant from the Estate of the Late Beryl Stephens. AT is supported by a National Health and Medical Research Council Fellowship (1037162). RC's employer, the Parker Institute, Bispebjerg, and Frederiksberg Hospital, is supported by a core grant (OCAY-13-309) from the Oak Foundation. Phases 1–3 of the OMERACT-Adherence study were funded by a 2018 Arthritis Australia project grant (major funder), and a private research grant provided by Professor Stephen Hall. Funding for phases 4 and 5 has not been confirmed.
Availability of data and materials
The datasets generated and analysed during the OMERACT-Adherence study are available from the corresponding author on reasonable request. The link to the full protocol will be available after publication via the publishing journal and COMET website.
Authors' contributions
All authors have made substantial contributions to the conception and design of the protocol. AK, GH, LM, DS, AT, KT and BVB will be involved in the data collection of phases 1–3. ATP, AT and RC contributed to the method of data analysis and interpretation. All authors of this protocol have made significant contributions to the drafting of the protocol and have revised it critically for important intellectual content. All authors have read and approved the final protocol.
Ethics approval and consent to participate
Liverpool Hospital, BJC Health (Parramatta and Chatswood), Royal North Shore Hospital (South Western Sydney Local Health District Research and Ethics Office, Locked Bag 7103, Liverpool BC NSW 1871, Australia, approval number HE 16/373 LNR, approved 2 March 2017), Canberra Hospital and Canberra Rheumatology (Australian Capital Territory Health Human Research Ethics Committee, ACT Government Health Directorate Research Office, Building 10 Level 6, Canberra Hospital, Yamba Drive, Garran ACT 2605, Australia, approval number ETHLR.15.137, approved 11 August 2015) have provided an ethical review and approval for the phase 2 and 3 studies. Ethics approval will be sought for the remainder of the OMERACT study. The primary investigator or co-ordinating investigator at each study site will obtain informed consent from all participants in the study (available on request).
Consent for publication
Not applicable.
Competing interests
PT, LM, MDW, DB and JAS are members of the executive of OMERACT, an organisation that develops outcome measures in rheumatology and receives arms-length funding from 36 companies. JAS has received research grants from Takeda and Savient and consultant fees from Savient, Takeda, Regeneron, Merz, Iroko, Bioiberica, Crealta/Horizon and Allergan Pharmaceuticals, WebMD, UBM LLC and the American College of Rheumatology (ACR). JAS serves as the principal investigator for an investigator-initiated study funded by Horizon Pharmaceuticals through a grant to DINORA, Inc, a 501(c)(3) entity. JAS is a member of the ACR's Annual Meeting Planning Committee; chair of the ACR Meet-the-Professor, Workshop and Study Group Subcommittee; and a member of the Veterans Affairs Rheumatology Field Advisory Committee. JAS is the editor and the director of the University of Alabama at Birmingham (UAB) Cochrane Musculoskeletal Group Satellite Center on Network Meta-analysis. RC is a member of the Technical Advisory Group for the OMERACT Domain & Instrument Selection Process, which might be perceived as an intellectual conflict of interest.
Publisher's Note
Springer Nature remains neutral with regard to jurisdictional claims in published maps and institutional affiliations.
Open AccessThis article is distributed under the terms of the Creative Commons Attribution 4.0 International License (http://creativecommons.org/licenses/by/4.0/), which permits unrestricted use, distribution, and reproduction in any medium, provided you give appropriate credit to the original author(s) and the source, provide a link to the Creative Commons license, and indicate if changes were made. The Creative Commons Public Domain Dedication waiver (http://creativecommons.org/publicdomain/zero/1.0/) applies to the data made available in this article, unless otherwise stated.
Authors' Affiliations
(1)
Canberra Rheumatology, Canberra City, Australia
(2)
Department of Rheumatology, Canberra Hospital, Canberra, Australia
(3)
College of Health and Medicine, Australian National University, Canberra, Australia
(4)
Centre for Kidney Research, The Children's Hospital at Westmead, Sydney, Australia
(5)
Sydney School of Public Health, The University of Sydney, Sydney, Australia
(6)
Department of Rheumatology, Royal North Shore Hospital, Sydney, Australia
(7)
Institute of Bone and Joint Research, Kolling Institute of Medical Research, Sydney, Australia
(8)
Northern Clinical School, The University of Sydney, Sydney, Australia
(9)
Faculty of Pharmaceutical Sciences, The University of British Columbia, Vancouver, Canada
(10)
Arthritis Research Centre of Canada, Richmond, Canada
(11)
Patient Research Partner, Clear Vision Consulting, Canberra, Australia
(12)
Department of Rheumatology, Liverpool Hospital, Sydney, Australia
(13)
Ingham Institute of Applied Medical Research, Sydney, Australia
(14)
Children's Hospital of Eastern Ontario Research Institute, Ottawa, Canada
(15)
Department of Pediatrics and School of Rehabilitation Sciences, University of Ottawa, Ottawa, Canada
(16)
Department of Pharmacy, Sint Maartenskliniek, Ubbergen, Netherlands
(17)
Radboud University Medical Centre, Nijmegen, Netherlands
(18)
Department of Rheumatology, Clinical Immunology, Osteology, Physical therapy and Sports Medicine, Schlosspark Klinik, Charité University Medicine, Berlin, Germany
(19)
Department of Medicine, McGill University, Montreal, Canada
(20)
Division of Rheumatology, Johns Hopkins School of Medicine, Baltimore, USA
(21)
Patient Research Partner, Toronto Western Hospital, Toronto, Canada
(22)
Lord Street Specialist Centre, Port Macquarie, Australia
(23)
Mayo Hospital Specialist Centre, Taree, Australia
(24)
Patient Research Partner, Dragon Claw, Sydney, Australia
(25)
Amsterdam Rheumatology and Immunology Centre, Amsterdam, Netherlands
(26)
The Ohio State University, Wexner Medical Center, Columbus, USA
(27)
Department of Clinical Epidemiology and Biostatistics, McMaster University, Hamilton, Canada
(28)
National Data Bank for Rheumatic Diseases, Wichita, USA
(29)
Medicine Service, VA Medical Center, Birmingham, USA
(30)
Department of Medicine, School of Medicine, University of Alabama, Birmingham, USA
(31)
Division of Epidemiology, School of Public Health, University of Alabama, Birmingham, USA
(32)
Section of Rheumatology and Clinical Immunology, Department of General Internal Medicine, The University of Texas MD Anderson Cancer Center, Houston, USA
(33)
Department of Rheumatology, Concord Hospital, Sydney, Australia
(34)
Mid-North Coast Arthritis Clinic, Coffs Harbour, Australia
(35)
University of New South Wales Rural Clinical School, Coffs Harbour, Australia
(36)
Musculoskeletal Statistics Unit, The Parker Institute, Bispebjerg and Frederiksberg Hospital, Copenhagen, Denmark
(37)
Musculoskeletal Health & Outcomes Research, Li Ka Shing Knowledge Institute, St. Michael's Hospital, Toronto, Canada
(38)
Institute for Work & Health, Toronto, Canada
(39)
Department of Occupational Science & Occupational Therapy and the Institute of Health Policy Management & Evaluation, University of Toronto, Toronto, Canada
(40)
Metamedica, VU Medical Centre, Amsterdam, The Netherlands
(41)
Department of Medicine, University of Ottawa, Ottawa, Canada