Organizing the Carotid Revascularization Endarterectomy versus Stenting Trial (CREST): National Institutes of Health, Health Care Financing Administration, and industry funding
CREST is a prospective, randomized, multicenter clinical trial of CEA versus CAS for prevention of stroke in patients with symptomatic stenosis greater than or equal to 50% [
1
]. The study includes a lead-in phase to ensure that research participant treatment is the same for all sites, and to collect data on the outcome of procedures performed by interventionists who have previously been trained and evaluated in the use of the study stent. These data will be reviewed by the Interventional Management Committee that is responsible for approving and credentialing interventionists to perform the stent procedure in CREST. CREST is supported by US NINDS-NIH through the investigator-originated (R01) grant mechanism, and is in the process of being converted into a co-operative agreement (U01). The organizational structure for CREST is shown in Fig.
1
.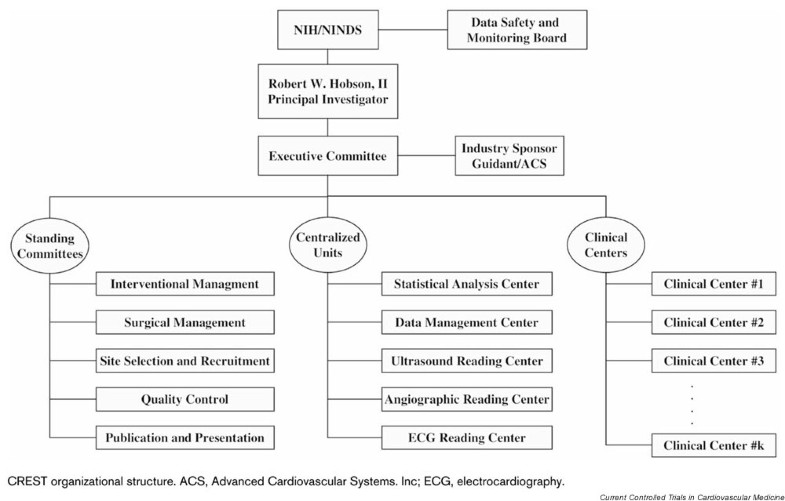 Several other federal agencies have played major roles in the development of the study. The US FDA is interested in CAS because of its increased use, and because industry sponsors have wanted to broaden the indications for CAS in the management of extracranial carotid occlusive disease. The CREST investigators have worked closely with the FDA to meet the FDA's regulatory responsibilities and CREST's need for data that would underpin requests for regulatory approval of CAS devices.
During the late 1990s, the use of carotid angioplasty (arterial dilatation without insertion of a stent) expanded rapidly, without clinical trial data to support efficacy. In response, the HCFA issued a national noncoverage policy against reimbursement to hospitals for expenses incurred by use of carotid angioplasty in Medicare patients. (Medicare is the US federal government insurance program for people aged 65 years or older, certain young people with disabilities, and people with end-stage renal disease.) This moratorium was issued because of the lack of scientific and clinical evidence regarding the effectiveness of carotid angioplasty. Subsequently, this moratorium against carotid angioplasty was extended to cover carotid stenting as well. Because third party payers use HCFA payment as part of their guidelines for reimbursement, this decision resulted in many payers also declining to reimburse expenses incurred with carotid angioplasty, with or without stenting.
(1)
University of Medicine and Dentistry of New Jersey, New Jersey Medical School, (principal investigator for CREST; UMDNJ is the awardee institution), Newark, New Jersey, USA
(2)
University of Alabama at Birmingham, Birmingham, Alabama, USA
(3)
Mayo Clinic, Jacksonville, Florida, USA
(4)
Lenox Hill Hospital, New York, New York, USA
(5)
Forsyth Medical Center, Winston-Salem, North Carolina, USA
(6)
A complete listing of the CREST Executive Committee is provided in the appendix, USA
Appendix: CREST Executive Committee members

Robert W Hobson, II, MD, CREST Principal Investigator; University of Medicine and Dentistry of New Jersey, New Jersey Medical School, Newark, New Jersey, USA; Tom G Brott, MD, co-Principal Investigator, Neurology; Mayo Clinic, Jacksonville, Florida, USA; JP Mohr, MD, co-Principal Investigator, Neurology; Columbia University, New York, New York, USA; Robert DG Ferguson, MD, co-Principal Investigator, intervention (radiology); Forsyth Radiology Associates, Forsyth Medical Center, Winston-Salem, North Carolina, USA; Gary S Roubin, MD, co-Principal Investigator, intervention (cardiology); Lenox Hill Hospital, New York, New York, USA; Wesley C Moore, MD, co-Principal Investigator, surgery; UCLA School of Medicine, Los Angeles, California, USA; LN Hopkins, MD, co-Principal Investigator, neurosurgery; State University of New York at Buffalo, Buffalo, New York, USA; George Howard, DrPH, co-Principal Investigator, statistical analysis; University of Alabama at Birmingham, Birmingham, Alabama, USA; Richard Kuntz, MD, co-Principal Investigator, data management; Harvard Clinical Research Institute, Boston, Massachusetts, USA; DE Strandness, MD, co-Principal Investigator, ultrasound; University of Washington School of Medicine, Seattle, Washington, USA; Jeff Popma, MD, co-Principal Investigator, angiography; Brigham and Women's Hospital, Boston, Massachusetts, USA; Beverly Huss, co-Principal Investigator, interventional device; Guidant Corporation, Menlo Park, California, USA; John R Marler, MD, co-Principal Investigator, project officer; NIH-NINDS, Rockville, Maryland, USAGoogle Scholar
© BioMed Central Ltd 2001