Correction to: Early Adolescent Skills for Emotions (EASE) intervention for the treatment of psychological distress in adolescents: study protocol for randomised controlled trials in Lebanon and Jordan
Trials volume 20, Article number: 617 (2019)
Correction to: Trials (2019) 20:545
https://doi.org/10.1186/s13063-019-3654-3
Following publication of the original article [1], we have been notified that Fig. 1 was published with the track changes. In this Correction the incorrect and correct Fig. 1 are shown.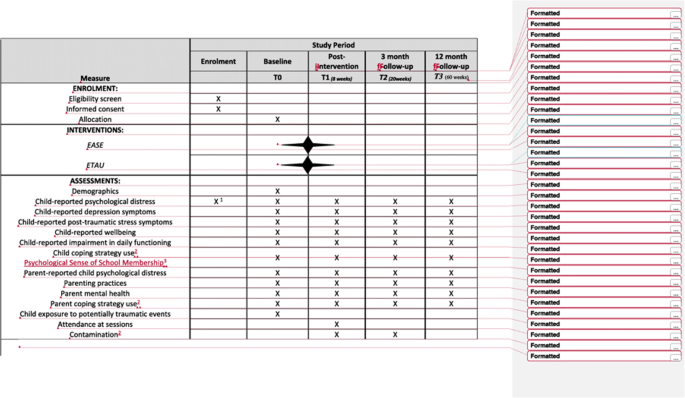 The original article has been corrected.
Reference
Brown FL, et al. Early Adolescent Skills for Emotions (EASE) intervention for the treatment of psychological distress in adolescents: study protocol for randomised controlled trials in Lebanon and Jordan. Trials. 2019;20:545. https://doi.org/10.1186/s13063-019-3654-3.
Rights and permissions
Open Access This article is distributed under the terms of the Creative Commons Attribution 4.0 International License (http://creativecommons.org/licenses/by/4.0/), which permits unrestricted use, distribution, and reproduction in any medium, provided you give appropriate credit to the original author(s) and the source, provide a link to the Creative Commons license, and indicate if changes were made. The Creative Commons Public Domain Dedication waiver (http://creativecommons.org/publicdomain/zero/1.0/) applies to the data made available in this article, unless otherwise stated.
About this article
Cite this article
Brown, F.L., Steen, F., Taha, K. et al. Correction to: Early Adolescent Skills for Emotions (EASE) intervention for the treatment of psychological distress in adolescents: study protocol for randomised controlled trials in Lebanon and Jordan. Trials 20, 617 (2019). https://doi.org/10.1186/s13063-019-3717-5
Published:

DOI: https://doi.org/10.1186/s13063-019-3717-5