Correction to: Metacognitive therapy vs. eye movement desensitization and reprocessing for posttraumatic stress disorder: study protocol for a randomized superiority trial
Received: 7 February 2018
Accepted: 7 February 2018
Published: 6 March 2018
In the original publication of this article [
1
] the SPIRIT figure for the study protocol was not included. In this Correction Article the SPIRIT figure (Fig.
1
) is published. The original publication has been updated with the SPIRIT figure.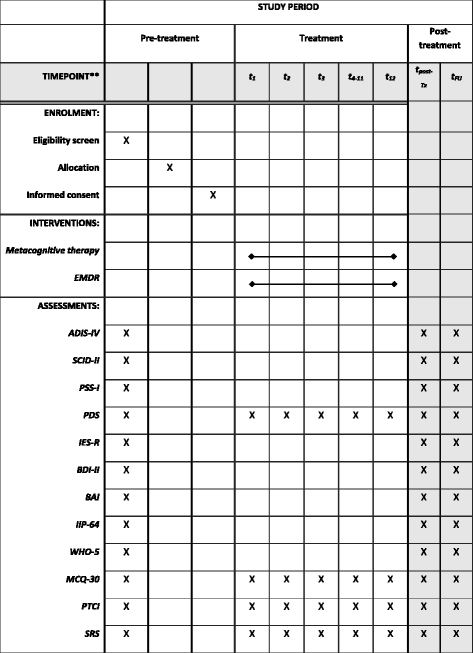 Open AccessThis article is distributed under the terms of the Creative Commons Attribution 4.0 International License (http://creativecommons.org/licenses/by/4.0/), which permits unrestricted use, distribution, and reproduction in any medium, provided you give appropriate credit to the original author(s) and the source, provide a link to the Creative Commons license, and indicate if changes were made. The Creative Commons Public Domain Dedication waiver (http://creativecommons.org/publicdomain/zero/1.0/) applies to the data made available in this article, unless otherwise stated.
(1)
St. Olavs Hospital HF, Nidaros DPS, P.O. Box 3250, 7006 Trondheim, Norway
(2)
Institute of Mental Health, Faculty of Medicine and Health Sciences, NTNU, PO box 8905, 7491 Trondheim, Norway
(3)
Department of Psychology, Dragvoll NTNU, 7491 Trondheim, Norway
(4)
School of Psychological Sciences, University of Manchester, Manchester, UK
(5)
Greater Manchester Mental Health NHS Foundation Trust, Manchester, UK