Study protocol

Open Access

Open Peer Review
This article has Open Peer Review reports available.
SCORE: Shared care of Colorectal cancer survivors: protocol for a randomised controlled trial
Received: 3 May 2017
Accepted: 10 October 2017
Published: 30 October 2017
Abstract
Background
Colorectal cancer (CRC) is the most common cancer affecting both men and women. Survivors of CRC often experience various physical and psychological effects arising from CRC and its treatment. These effects may last for many years and adversely affect QoL, and they may not be adequately addressed by standard specialist-based follow-up. Optimal management of these effects should harness the expertise of both primary care and specialist care. Shared models of care (involving both the patient's primary care physician [PCP] and specialist) have the potential to better support survivors and enhance health system efficiency.
Methods/design
SCORE (Shared care of Colorectal cancer survivors) is a multisite randomised controlled trial designed to optimise and operationalise a shared care model for survivors of CRC, to evaluate the acceptability of the intervention and study processes, and to collect preliminary data regarding the effects of shared care compared with usual care on a range of patient-reported outcomes. The primary outcome is QoL measured using the European Organisation for Research and Treatment of Cancer QLQ-C30 questionnaire. Secondary outcomes are satisfaction with care, unmet needs, continuity of care and health resource use. The shared care model involves replacement of two routine specialist follow-up visits with PCP visits, as well as the provision of a tailored survivorship care plan and a survivorship booklet and DVD for CRC survivors. All consenting patients will be randomised 1:1 to either shared care or usual care and will complete questionnaires at three time points over a 12-month period (baseline and at 6 and 12 months). Health care resource use data will also be collected and used to evaluate costs.
Discussion
The evaluation and implementation of models of care that are responsive to the holistic needs of cancer survivors while reducing the burden on acute care settings is an international priority. Shared care between specialists and PCPs has the potential to enhance patient care and outcomes for CRC survivors while offering improvements in health care resource efficiency. If the findings of the present study show that the shared care intervention is acceptable and feasible for CRC survivors, the intervention may be readily expanded to other groups of cancer survivors.
Trial registration
Australian New Zealand Clinical Trials Registry, ACTRN12617000004369p. Registered on 3 January 2017; protocol version 4 approved 24 February 2017.
Keywords
Colorectal cancer
Survivorship
Follow-up
Shared care
Primary care
Models of care
Protocol
Methods/design
Participants, interventions and outcomes
Study setting
The study will be conducted at the Peter MacCallum Cancer Centre, Royal Melbourne Hospital, Western Health, St Vincent's Hospital and Austin Health, Melbourne, Victoria, Australia. Each site treats a considerable number of people with CRC.
Eligibility criteria
Inclusion: To be eligible, patients must (1) have a histologically confirmed diagnosis of colon or rectal cancer, (2) have stage I–III disease, (3) have completed treatment with curative intent with surgery with or without radiation with or without chemotherapy within 2 months, (4) be over 18 years of age, (5) be able to understand English, and (6) have a PCP who is willing to participate in the study.
Exclusion: Exclusion criteria are patients (1) with demonstrated cognitive or psychological difficulties that would preclude study participation as defined by the treatment team, (2) who are too unwell to participate in the study as determined by the patient's treatment team, (3) who have received treatment for a prior cancer (excluding non-melanoma skin cancer), and (4) who have a PCP who is already participating in the study (to avoid contamination between randomisation groups).
Withdrawal: Participants will be withdrawn if (1) they have cancer recurrence or (2) they withdraw consent. Discontinuation because of adverse events will be at either the request of the participant or the discretion of the investigator(s).
Interventions
Participants will receive either standard specialist-based follow-up care (usual follow-up care) or shared follow-up care between specialist and PCP (shared care intervention) for a period of 12 months.
Control group
Patients in the control group will receive usual care in accordance with hospital practice. Usual follow-up care occurs at 3-monthly intervals during the first year following the end of treatment and includes patient history, physical examination, blood test for carcinoembryonic antigen, and computed tomographic scan at 12 months if recommended by the patient's treating specialist [34, 35, 70].
Intervention group
Patients in the intervention group will receive shared care between specialist and PCP. The shared care intervention will replace two specialist appointments at 3 and 9 months with PCP appointments and add an additional PCP appointment 2 to 6 weeks following the end of treatment to re-establish contact and discuss follow-up care. At baseline, participants allocated to shared care will receive additional resources, including a tailored survivorship care plan, a 'Living Well after Cancer' booklet [71] and a DVD titled 'Just Take It Day to Day' [72]. A common issues and concerns checklist will also be administered prior to PCP clinic attendance to assist with identification of individual needs. The survivorship care plan will be prepared by the research team and approved by the treating specialist, and it will include diagnosis, treatment history, details about additional hospital services received and information about common issues experienced by CRC survivors, and information about staying well and available community services. The PCP will receive a copy of the survivorship care plan and management guidelines detailing common issues experienced by CRC survivors and how to manage these, as well as how best to contact the specialist treating team for advice or if recurrence is suspected. Both patients and PCPs will receive a reminder letter about upcoming follow-up appointments, with PCPs further reminded to provide information on patient progress and have pathology results copied to specialist.
Outcomes
The primary outcome will be overall QoL at 12 months using the European Organisation for Research and Treatment of Cancer core questionnaire (EORTC QLQ-C30) [73]. Secondary outcomes include individual aspects of QoL, unmet needs, continuity of care and satisfaction.
Individual aspects of QoL: The EORTC QLQ-C30 functional and symptom scales and the CRC module (EORTC QLQ-CR29) [74] collectively assess specific symptoms such as fatigue, anxiety and pain as well as function on several domains, including physical, role, emotional, cognitive, social, sexual, urinary and bowel.
Survivors' unmet needs: The Short-Form Survivor Unmet Needs Survey [75] is the brief version of the Survivor Unmet Needs Survey 89-item scale. It provides a measure of cancer survivors' unmet needs, using 30 items across 5 domains: emotional health (8 items), access and continuity of care (6 items), relationships (5 items), financial concerns (8 items) and information (3 items). Each item is scored from 0 (no unmet need) to 4 (very high unmet need) [75].
Continuity of care: The Picker Ambulatory Oncology survey comprises eight items that assess patient experience of oncology care [76]. Three items are scored 'yes completely', 'yes somewhat' or 'no' and five items are scored 'never', 'sometimes', 'usually' or 'always'. Each of the items is fractioned to the number of positive and negative responses. A total score is derived from these positive and negative responses [76].
Satisfaction: The Patient Satisfaction Questionnaire short form, derived from the 50-item Patient Satisfaction Questionnaire, comprises 18 items assessing satisfaction [77]. Seven subscales are used: general satisfaction (items 3 and 17), technical quality (items 2, 4, 6 and 14), interpersonal manner (items 10 and 11), communication (items 1 and 13), financial aspects (items 5 and 7), time spent with doctor (items 12 and 15), and accessibility and convenience (items 8, 9, 16 and 18). Each item is scored on a 5-point Likert scale ranging from 'strongly agree' to 'strongly disagree'. Agreement on some scales indicates satisfaction, whereas agreement on other scales reflects dissatisfaction. All items are scored such that high scores reflect satisfaction with medical care.
Demographics and clinical variables: A range of demographic and clinical information will be collected for each patient, including age, sex, language spoken at home, living arrangements, postcode, occupation, work status, level of income, diagnosis and stage of disease, and treatment type.
Health care resource use: Patients will be consented for access to data on medical service use via Medicare (Australia's publicly funded universal health care system) from the Commonwealth Department of Human Services. This will provide information on the type, frequency and costs associated with medical service use by participants. Information on hospital service use will be sourced from hospital records on the basis of occurrence of events and costed using Australian Refined Diagnosis Related Groups.
Recurrence: To determine recurrence, participants are asked to provide an indication that disease recurrence is suspected; these questions were developed by Cancer Experiences Research, Peter MacCallum Cancer Centre.
Fidelity: There are two components to the fidelity section. First, participants are asked to respond whether additional specialist/PCP appointments were scheduled during the follow-up period. Second, there are eight questions that pertain to what participants remember receiving (e.g., survivorship care plan, DVD) as part of the intervention. Questions pertaining to these variables have been sourced from our previous follow-up care survey [27].
Participant time line:
The assessment and appointment schedule is detailed in Fig.
2
.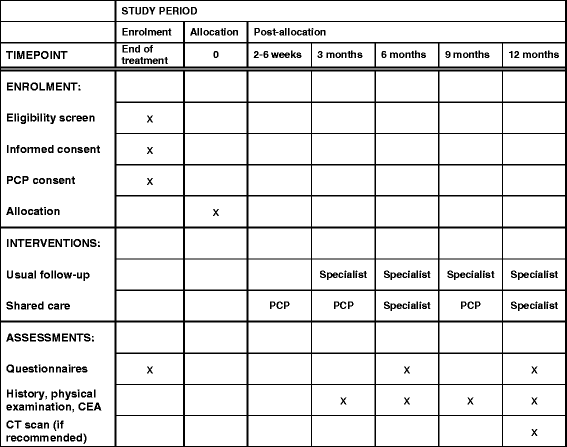 Sample size
A sample size of 100 patients (50 in each arm) will allow estimation of key parameters with adequate precision to determine the appropriateness of expansion to a definitive phase III trial. The 95% CI for a retention rate of 90% for a study of this size would range from 82% to 95%. A retention rate below 80% would constitute grounds for modifying aspects of the study prior to expansion to a definitive phase III trial. Furthermore, the 95% CIs for the mean difference between the two groups on patient-reported outcome measures would extend no further than ±0.5 SD (given a retention rate of 90%). This level of precision corresponds to what has been proposed as a minimal clinically important difference for health-related QoL measures [78]. Evidence of a substantial detriment associated with shared care as measured by a reduction of 0.6 (or worse) on a patient-reported outcome measure would be detected with 80% power (at the 2.5% one-sided level of significance). A statistically significant negative finding on the global QoL scale from the EORTC QLQ-C30 would constitute grounds for abandoning expansion to a definitive phase III trial.
Recruitment
A research team will be appointed at each site. The research team will identify and screen potentially eligible patients from outpatient clinic lists as well as chemotherapy, surgery and radiotherapy lists, with the assistance of clinicians. Eligibility will be confirmed with the treating clinician prior to approach to clarify details from medical records and to ensure the clinician is aware of the patient's involvement with the study.
Once it has been established that a patient is potentially eligible for the trial, the research team will approach the patient and invite him or her to participate (Additional files 2 and 3). Eligible and consenting patients will complete baseline measures prior to randomisation. The patient's preferred PCP will be contacted to confirm willingness to be involved in the trial, should the patient be randomised to the intervention arm. An opt-out approach will be used. If the PCP returns the form noting that they prefer not to participate in the study, no further contact will be made. If the PCP contacts the research team stating they would like to take part, or if the form is not returned within 1 week, consent to take part in the study will be implied.
Patients who decline to participate will be asked for their verbal consent to collect basic demographic and clinical information from their records to examine potential recruitment bias. Reasons for refusal will be recorded.
Assignment of interventions
Trial participants will be randomised to receive either shared care or usual care using a 1:1 ratio following completion of baseline measures. The randomisation sequence will be based on a minimisation scheme with stratification for site (Peter MacCallum Cancer Centre, Royal Melbourne Hospital, Western Health, St Vincent's Hospital and Austin Hospital). The randomisation sequence will be computer-generated by the research team at Peter MacCallum Cancer Centre using a centralised randomisation database. The allocation sequence will be concealed within a management system (Microsoft Access database; Microsoft, Redmond, WA, USA) managed by a data manager who is independent of the day-to-day conduct of the trial.
Data collection, management and analysis
Data collection methods
The outcome measures will be taken at the end of treatment (baseline) and at 6 and 12 months. Recurrence will be collected at 6 and 12 months with fidelity measures being collected at 12 months. Arrangements of appointments will be self-managed by the participant throughout the trial period. Adherence to follow-up appointments will be collected through Medicare data at the end of the patient's participation in the trial.
Statistical methods
Acceptability of the intervention, randomisation, outcome measures and study processes will be based on a comparison between the expected and observed (1) recruitment rate and (2) proportion of participants completing the study requirements. The planned recruitment rate will be evaluated against the actual recruitment rate in a descriptive fashion (e.g., as a line graph). A point estimate and 95% CI for the proportion completing the study requirements will be calculated and evaluated against a benchmark of 80%. Statistical evidence that the completion probability was inconsistent with the 80% target or that actual recruitment fell appreciably below expectations would constitute grounds for modifying aspects of the study prior to expansion to a definitive phase III trial. The effect of shared care compared with usual care on scales from the patient-reported outcome measures will be quantified by applying a mixed model for repeated measures approach to the data collected. Point estimates of effect on these scales will be presented with 95% CIs. Statistical evidence of a negative impact on the global QoL scale would constitute grounds for abandoning expansion to a definitive phase III trial. This would occur if the two-sided 95% CI for the treatment effect favoured standard care and excluded 0. (Such a result is equivalent to obtaining a significant p value at the one-sided 2.5% level of significance.)
Costs and outcomes between usual care and shared care will be compared on the basis of resources required for the delivery of care and the use of medical services by patients. The comparison of outcomes will be focussed on the difference in the proportion of patients with unmet needs allowing an indicative assessment of the cost per additional patient whose needs are met by shared care compared with usual care. Results for the EORTC QLQ-C30 will be converted to preference-based measures of QoL (the EORTC Quality of Life Utility Measure–Core 10 dimensions) [79] for use in estimating quality-adjusted life-years (QALYs). With these data, a potential difference in costs per QALY between usual care and shared care will be explored in a model-based analysis. Differences in cost data will be subject to non-parametric testing, with appropriate sensitivity analyses conducted of comparisons of costs and outcomes [80].
Monitoring
Data monitoring
The study has received ethics approval from the human research ethics committee of Peter MacCallum Cancer Centre (HREC/16/PMCC/89). No significant risks to participants are anticipated. Because the study is unblinded without drug intervention, an independent data and safety monitoring committee is unnecessary; however, the trial management committee will review the recruitment rate, the retention rate, and the data completion rate on an ongoing basis. The trial management committee includes CRC medical and surgical oncologists, PCPs, a behavioural scientist, a statistician, a health economist and a consumer.
Safety
Any adverse or unexpected outcomes which occur as a result of the trial will be documented and copies provided to site investigators and the principal investigator within 24 h. The principal investigator will proceed to report any such adverse event to the human research ethics committee.
Discussion
There is growing interest in post-treatment care in the clinical and research setting, with recognition that current service provision is both inadequate in meeting the needs of survivors and unsustainable, given the growing number of survivors and limited health workforce [32, 37]. It is internationally recognised that models of care are needed which are responsive to the needs of survivors and caregivers and representing more efficient use of limited health care resources [32, 51, 52, 81].
Numerous studies show that survivors of CRC have persisting symptoms, impaired QoL and unmet needs [3, 4, 9–12, 14–16, 18, 20, 21, 26, 28]. They also miss out on health promotion and disease prevention opportunities and appropriate management of comorbid illness [33, 36]. To our knowledge, this is the first study of shared care for people with CRC internationally. Very few studies have addressed survivorship care for CRC survivors. The present clinical trial considers a more comprehensive view of life after cancer, with a focus not just on disease and cancer recurrence but also on dealing with the consequences of cancer and promoting optimal health and well-being [34]. The aim of the intervention is to comprehensively assess needs and link people to necessary multidisciplinary care. The intervention will provide clarity for patients regarding their follow-up and give patients and PCPs the information that they need. Formalising shared care improves communication for survivors, carers and health professionals and limits the underuse and overuse of tests and services [59, 82].
Researchers in a similar study seek to assess QoL in patients with CRC and evaluate an intervention targeted at QoL deficits [83]. This study is based on a similar successful approach for breast cancer survivors [84].
A possible limitation in the SCORE design is differential participation by both CRC survivors and PCPs. We will monitor characteristics of participants and non-participants. Shared care approaches may not be preferred (or appropriate) for all people. In our previous ProCare study, of 84 patients who met eligibility criteria but were not enrolled, only 9 were due to a PCP's decision to not participate [55].
SCORE considers important outcomes that will remain relevant in the future, including costs, health and well-being, cancer outcomes, management of consequences, illness prevention and chronic disease management. If successful, the findings derived from this study would be transferable to other groups of cancer survivors. The study may also lead to exploration of modifications of shared care protocols: less frequent reviews, remote monitoring or care led by nursing or allied health professionals. It is also likely that demonstration of the impact of shared care in one cancer survivorship setting will lead to exploration and adoption of the model with other groups of cancer survivors.
Trial status
Currently 16 patients have been recruited.
Abbreviations
CEA:

Carcinoembryonic antigen
CCM:

Chronic Care Model
CRC:

Colorectal cancer
CT:

Computed tomography
EORTC QLQ-C30:

European Organisation for Research and Treatment of Cancer core questionnaire
EOT:

End of treatment
IOM:

Institute of Medicine
PCP:

Primary care physician
QALY:

Quality-adjusted life-year
RCT:

Randomised controlled trial
SCORE:

Shared care of Colorectal cancer survivors intervention
Declarations
Acknowledgements
Not applicable.
Funding
This trial is funded by the Victorian Cancer Agency in partnership with the Victorian Integrated Cancer Services through a Health Services Research Program grant. The funding body had no role in the design of the study or in the writing of the manuscript of this article, nor will it have any role in the collection, analysis and interpretation of data or in the writing of subsequent manuscripts.
Availability of data and materials
Not applicable.
Authors' contributions
MJ, PS, JE, EG, AM, RDAL, AH, DK and JPN conceived of and designed the study and acquired the funding. MJ, PR, AMM and LG developed the study protocol and procedures and obtained ethics approval. MJ, PR, AMM, NT, AB, IF, AH and RW are responsible for acquisition of data. AM and RDAL are responsible for the analysis and interpretation of data. MJ drafted the manuscript. All authors were involved in revising the manuscript. All authors read and approved the final manuscript.
Ethics approval and consent to participate
Ethics approval was received 15 December 2016 from the Peter MacCallum Cancer Centre Human Research Ethics Committee (HREC/16/PMCC/89). Amendments to the study will be submitted to ethic committees and updated on the trial registry. Participants have provided or will provide written informed consent to participate in the trial.
Consent for publication
Not applicable.
Competing interests
The authors declare that they have no competing interests.
Publisher's Note
Springer Nature remains neutral with regard to jurisdictional claims in published maps and institutional affiliations.
Open AccessThis article is distributed under the terms of the Creative Commons Attribution 4.0 International License (http://creativecommons.org/licenses/by/4.0/), which permits unrestricted use, distribution, and reproduction in any medium, provided you give appropriate credit to the original author(s) and the source, provide a link to the Creative Commons license, and indicate if changes were made. The Creative Commons Public Domain Dedication waiver (http://creativecommons.org/publicdomain/zero/1.0/) applies to the data made available in this article, unless otherwise stated.
Authors' Affiliations
(1)
Department of Cancer Experiences Research, Peter MacCallum Cancer Centre, Melbourne, Australia
(2)
Sir Peter MacCallum Department of Oncology, Faculty of Medicine, Dentistry and Health Sciences, The University of Melbourne, Melbourne, Australia
(3)
Division of Cancer Medicine, Peter MacCallum Cancer Centre, Melbourne, Australia
(4)
Department of General Practice and Centre for Cancer Research, University of Melbourne, Victorian Comprehensive Cancer Centre, Melbourne, Australia
(5)
Ontario Institute for Cancer Research, Toronto, Canada
(6)
Department of Family and Community Medicine, University of Toronto, Toronto, Canada
(7)
National Health and Medical Research Council (NHMRC) Clinical Trials Centre, University of Sydney, Sydney, Australia
(8)
Centre for Health Economics Research and Evaluation, University of Technology Sydney, Sydney, Australia
(9)
Division of Cancer Surgery, Peter MacCallum Cancer Centre, Melbourne, Australia
(10)
Psychology Department, School of Health and Biomedical Sciences, RMIT University, Melbourne, Australia
(11)
Department of Medical Oncology, Olivia Newton-John Cancer Wellness and Research Centre, Austin Health, Heidelberg, Australia
(12)
Colorectal Surgery Unit, Austin Health, Heidelberg, Australia
(13)
Colorectal Surgery, Western Health, Footscray, Australia
(14)
Colorectal Surgery Unit, St Vincent's Hospital, Fitzroy, Australia
(15)
Department of Psychology, School of Health Sciences, Faculty of Health, Arts and Design, Swinburne University of Technology, Heidelberg, Australia