Review

Open Access

Open Peer Review
This article has Open Peer Review reports available.
Evidence-based practice within nutrition: what are the barriers for improving the evidence and how can they be dealt with?
Received: 24 March 2017
Accepted: 24 August 2017
Published: 11 September 2017
Abstract
Background
Evidence-based clinical research poses special barriers in the field of nutrition. The present review summarises the main barriers to research in the field of nutrition that are not common to all randomised clinical trials or trials on rare diseases and highlights opportunities for improvements.
Methods
Systematic academic literature searches and internal European Clinical Research Infrastructure Network (ECRIN) communications during face-to-face meetings and telephone conferences from 2013 to 2017 within the context of the ECRIN Integrating Activity (ECRIN-IA) project.
Results
Many nutrients occur in multiple forms that differ in biological activity, and several factors can alter their bioavailability which raises barriers to their assessment. These include specific difficulties with blinding procedures, with assessments of dietary intake, and with selecting appropriate outcomes as patient-centred outcomes may occur decennia into the future. The methodologies and regulations for drug trials are, however, applicable to nutrition trials.
Conclusions
Research on clinical nutrition should start by collecting clinical data systematically in databases and registries. Measurable patient-centred outcomes and appropriate study designs are needed. International cooperation and multistakeholder engagement are key for success.
Keywords
Randomised clinical trials
Evidence-based clinical practice
Evidence-based medicine
Assessment
Specific barriers
Nutrition
ECRIN
European Clinical Infrastructure Network
Background
The European Clinical Research Infrastructure Network Integrating Activity (ECRIN-IA) project has initiated work to identify threats and barriers to evidence-based clinical practice [1–3].1
We identified common barriers affecting all clinical trials, namely inadequate knowledge and understanding of clinical research and trial methodology; lack of funding; excessive monitoring; restrictive interpretation of privacy law and lack of transparency; overly complex or inadequate regulatory requirements; and inadequate clinical research infrastructures [4]. Furthermore, we identified barriers towards the conduct of clinical research on rare diseases, including the direct consequence of rarity; limited knowledge on the natural history of rare diseases; the need for trial designs adapted to the small population size and clinical heterogeneity; the need for multinational randomised clinical trials and infrastructures to conduct such trials; the need for more sensitive outcomes to quantify clinical benefit; and the need for involvement of all the stakeholders in the study design and conduct [5]. In a related paper, we also assess the specific barriers towards clinical research on medical devices [6]. In the present paper, we assess the specific barriers towards clinical research on nutrition and examine how they can be broken down in order to improve the future evidence base.
Due to the ubiquitous nature of nutrition and the multiple metabolic effects induced by each food, nutrient, or micronutrient component, randomised clinical trials (RCTs) in this area face practical barriers [7]. By nature, some barriers can be difficult to resolve such as making an appropriate placebo for blinding of the interventions. Due to the multiple metabolic impact of nutrients, choosing the primary outcome and the determination of sample size may seem particularly difficult. Nutrition research on products is also complex because it exploits a multitude of bioactive compounds acting on an extensive network of interacting processes. In addition to measuring the variables of interest (assessing health), an extensive description of the trial participants and foods or diets consumed is essential. However, solutions exist to respect general rules of clinical trials despite these barriers.
The present paper gives an overview of the specific obstacles in methodology within nutrition research and provides solutions to these barriers (Table
1
). The regulations in this area are also discussed.
Table 1
Barriers to the conduct of randomised clinical trials (RCTs) on nutrition
| Specific barriers to RCTs on nutrition | Comments |
| --- | --- |
| Testing a nutrient | Should one use the nutrient as an add-on to usual diet, or should the diet be depleted of the nutrient? |
| Testing a food intervention | How to assess dietary intake |
| Assessing dietary intake | Combination of diverse methods including the 24-h dietary recall method are likely to be best |
| Selection of outcomes | Depends on the objective of the study |
Methods
The present study is based on a combination of systematic academic literature searches as well as internal ECRIN-IA communications from 2013 to 2017. In May 2016, the systematic search was performed using The Cochrane Library (Wiley) (Issue 5 of 12, 2016) (including the Cochrane Database of Systematic Reviews (CDSR), CENTRAL, National Health Service Economic Evaluation Database (NHSEED), and Database of Abstracts of Reviews of Effects (DARE, U.S. Library of Medicine)); MEDLINE (Ovid SP) (1946 to May 2016); EMBASE (Ovid SP) (1974 to May 2016); and Science Citation Index Expanded (1900 to May 2016) using different terms covering barriers, evidence-based medicine, and nutrition. The exact search strategy is provided in Additional file
1
. A Preferred Reporting Items for Systematic Reviews and Meta-analyses (PRISMA) flow diagram depicting the selection process and a PRISMA Checklist are provided in Fig.
1
and Additional file
2
, respectively. Articles were selected if they included valid considerations on how barriers to the conduct of randomised clinical trials (RCTs) on nutrition could affect their number, feasibility, and quality.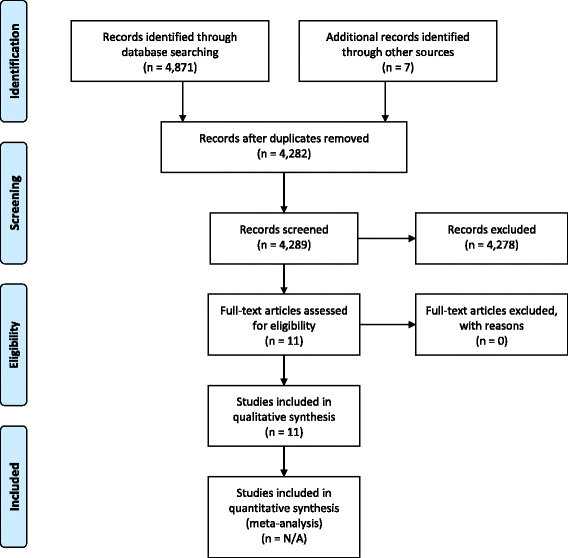 Results and discussion
Search results
Through the electronic searches a total of 4871 references were identified. After 589 duplicates were removed, a total of 4282 references remained, and were further reduced to yield 11 relevant references (Additional file 3).
Randomised clinical trials on nutrition
RCTs are costly and labourious to conduct, but they are essential [8–11]. The RCT is the only design which is able to demonstrate a causal relationship between a dietary change and health outcomes [8–11]. However, testing the effect of a diet or a specific nutrient in a trial is not the same as testing a drug and different obstacles are encountered (Table 1).
Conclusions
Nutrition research must apply reproducible and valid methodologies [8, 15]. The methodologies and regulations for drug trials are applicable to trials in the field of nutrition. A consensual approach involving institutional and industrial partners of the clinical nutrition research would be useful for standardisation of these practices on specific aspects such as the choice of a placebo, the design of the test products, the selection of control participants, the choice of outcomes, and sample size estimation. In collaboration with ECRIN, it will be necessary to standardise nutritional and outcome assessment, standardise operating procedures for existing and new methodologies, and standardise data collection, data management and data sharing, which will make studies comparable and interoperable for systematic reviews meta-analyses.
Taking into account the specificities of nutrition studies and developing international collaboration will enhance the quality of nutrition research [1].
Footnotes
1
Funded by the European Union Framework Programme 7 (EU FP7; grant agreement no. 284395), ECRIN-IA involved 23 countries and brought together diverse stakeholders to overcome barriers to clinical research in three particularly difficult areas (rare diseases, medical devices, and nutrition). Specifically, the project aimed to develop tools, services, and infrastructure to facilitate multinational clinical research in Europe, and to support the development of pan-European disease networks to drive clinical projects. This in turn was intended to improve Europe's attractiveness to industry, boost its scientific competitiveness, and result in better health care for European citizens. Originally planned for 4 years (2012 to 2015), the clinical trials work package was extended until 2017.
Abbreviations
CDSR:

Cochrane Database of Systematic Reviews
ECRIN:

European Clinical Research Infrastructure Network
ECRIN-IA:

European Clinical Research Infrastructure Network Integrating Activity
EFSA:

European Food Safety Authority
FDA:

US Food and Drug Administration
IND:

Investigational New Drug
KIDMED:

Mediterranean Diet Quality Index
MAI:

Mediterranean Adequacy Index
MDS:

Mediterranean Diet Score
MeDiet-PREDIMED:

Mediterranean food pattern PREDIMED study
NHSEED:

National Health Service Economic Evaluation Database
RCT:

Randomised clinical trial
Declarations
Acknowledgements
The ECRIN-IA grant from the EU FP7 is thanked for support for meetings and for the conduct of this review. The Mario Negri Institute is thanked for housing the ECRIN-IA meeting in February 2013. Trials search coordinator Sarah Louise Klingenberg, The Cochrane Hepato-Biliary Group at The Copenhagen Trial Unit, is thanked for expert assistance conducting the database searches for this review. All participants of ECRIN-IA are thanked for participating in discussions identifying the bottlenecks in clinical research and the threats to internal validity of clinical research (and hence threats to external validity of clinical research) suggesting ways to remove the bottlenecks and erase the threats.
Funding
The ECRIN-IA grant from the EU FP7 (GA 284395) provided support for meetings and for the conduct of this review. The Mario Negri Institute housed the ECRIN-IA meeting in February 2013. The funding sources had no influence on data collection, design, analysis, interpretation; or any aspect pertinent to the paper.
Availability of data and materials
The datasets used and analysed during the current study are available from the corresponding author on reasonable request.
Authors' contributions
ML drafted the manuscript. SD and CG critically read the systematic academic literature searches and selected the papers. ML, CG, BS, MA, CR, LS MH, AS, CLV, YB, AR, EAMN, SG, VB, CK, JD, and JCJ participated in all internal ECRIN-IA discussions, and revised the manuscript for important intellectual content. All authors read and approved the final manuscript. All authors had full access to all the data (including PDFs of the articles and the search results) and take responsibility for the integrity of the data.
Authors' information
Not applicable.
Ethics approval and consent to participate
Not applicable.
Consent for publication
Not applicable.
Competing interests
All authors are involved in the ECRIN-IA project. ML, BS, CR, L, AS, CLV, and YB all work within the field of nutrition research. The authors declare that they have no additional competing interests.
Publisher's Note
Springer Nature remains neutral with regard to jurisdictional claims in published maps and institutional affiliations.
Open AccessThis article is distributed under the terms of the Creative Commons Attribution 4.0 International License (http://creativecommons.org/licenses/by/4.0/), which permits unrestricted use, distribution, and reproduction in any medium, provided you give appropriate credit to the original author(s) and the source, provide a link to the Creative Commons license, and indicate if changes were made. The Creative Commons Public Domain Dedication waiver (http://creativecommons.org/publicdomain/zero/1.0/) applies to the data made available in this article, unless otherwise stated.
Authors' Affiliations
(1)
Centre de Recherche en Nutrition Humaine Rhone-Alpes, French Obesity Centre of Excellence (FCRIN-FORCE), Lyon 1 University, Hospices Civils de Lyon, Lyon, France
(2)
Nutrition Research Group, Research Institute of Biomedical and Health Sciences, University of Las Palmas de Gran Canaria, Las Palmas, Spain
(3)
Ciber Fisiopatología Obesidad y Nutrición (CIBEROBN, CB06/03), Instituto de Salud Carlos III (ISCII), Spanish Goverment, Madrid, Spain
(4)
Division of Cardiac, Thoracic, Vascular Anaesthesia and Intensive Care, Vienna General Hospital, Vienna, Austria
(5)
Department of Respiratory Medicine, NUTRIM School of Nutrition and Translational Research in Metabolism, Maastricht University Medical Centre, Maastricht, The Netherlands
(6)
Department of Clinical Sciences and Community Health, Università degli Studi di Milano Via Vanzetti, Milan, Italy
(7)
Service de Nutrition Clinique, CHU de Clermont-Ferrand, Unité de Nutrition Humaine, Clermont-Ferrand, France
(8)
Orphanet, Institut National de la Santé et de la Recherche Médicale (INSERM), Paris, France
(9)
Brandenburg Medical School, Neuruppin, and Witten/Herdecke University, Witten, Germany
(10)
IRCCS Istituto di Ricerche Farmacologiche Mario Negri, Milan, Italy
(11)
European Clinical Research Infrastructure Network (ECRIN), Paris, France
(12)
Copenhagen Trial Unit, Centre for Clinical Intervention Research, Department 7812, Rigshospitalet, Copenhagen University Hospital, Copenhagen, Denmark
(13)
Department of Cardiology, Holbæk Hospital, Holbaek, Denmark