Commentary

Open Access

Open Peer Review
This article has Open Peer Review reports available.
Why clinical trial outcomes fail to translate into benefits for patients
Received: 13 October 2016
Accepted: 28 February 2017
Published: 14 March 2017
Abstract
Clinical research should ultimately improve patient care. For this to be possible, trials must evaluate outcomes that genuinely reflect real-world settings and concerns. However, many trials continue to measure and report outcomes that fall short of this clear requirement. We highlight problems with trial outcomes that make evidence difficult or impossible to interpret and that undermine the translation of research into practice and policy. These complex issues include the use of surrogate, composite and subjective endpoints; a failure to take account of patients' perspectives when designing research outcomes; publication and other outcome reporting biases, including the under-reporting of adverse events; the reporting of relative measures at the expense of more informative absolute outcomes; misleading reporting; multiplicity of outcomes; and a lack of core outcome sets. Trial outcomes can be developed with patients in mind, however, and can be reported completely, transparently and competently. Clinicians, patients, researchers and those who pay for health services are entitled to demand reliable evidence demonstrating whether interventions improve patient-relevant clinical outcomes.
Keywords
Clinical outcomes
Surrogate outcomes
Composite outcomes
Publication bias
Reporting bias
Core outcome sets
Background
Clinical trials are the most rigorous way of testing how novel treatments compare with existing treatments for a given outcome. Well-conducted clinical trials have the potential to make a significant impact on patient care and therefore should be designed and conducted to achieve this goal. One way to do this is to ensure that trial outcomes are relevant, appropriate and of importance to patients in real-world clinical settings. However, relatively few trials make a meaningful contribution to patient care, often as a result of the way that the trial outcomes are chosen, collected and reported. For example, authors of a recent analysis of cancer drugs approved by the U.S. Food and Drug Administration (FDA) reported a lack of clinically meaningful benefit in many post-marketing studies, owing to the use of surrogates, which undermines the ability of physicians and patients to make informed treatment decisions [1].
Such examples are concerning, given how critical trial outcomes are to clinical decision making. The World Health Organisation (WHO) recognises that 'choosing the most important outcome is critical to producing a useful guideline' [2]. A survey of 48 U.K. clinical trials units found that 'choosing appropriate outcomes to measure' as one of the top three priorities for methods research [3]. Yet, despite the importance of carefully selected trial outcomes to clinical practice, relatively little is understood about the components of outcomes that are critical to decision making.
Most articles on trial outcomes focus on one or two aspects of their development or reporting. Assessing the extent to which outcomes are critical, however, requires a comprehensive understanding of all the shortcomings that can undermine their validity (Fig.
1
). The problems we set out are complex, often coexist and can interact, contributing to a situation where clinical trial outcomes commonly fail to translate into clinical benefits for patients.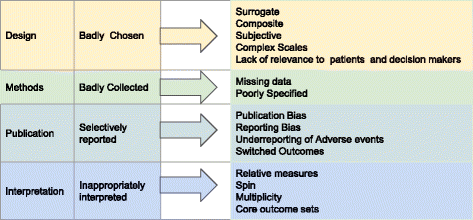 Conclusions
The treatment choices of patients and clinicians should ideally be informed by evidence that interventions improve patient-relevant outcomes. Too often, medical research falls short of this modest ideal. However, there are ways forward. One of these is to ensure that trials are conceived and designed with greater input from end users, such as patients. The James Lind Alliance (JLA) brings together clinicians, patients and carers to identify areas of practice where uncertainties exist and to prioritise clinical research questions to answer them. The aim of such 'priority setting partnerships' (PSPs) is to develop research questions using measurable outcomes of direct relevance to patients. For example, a JLA PSP of dementia research generated a list of key measures, including quality of life, independence, management of behaviour and effect on progression of disease, as outcomes that were relevant to both persons with dementia and their carers [70].
However, identifying best practice is only the beginning of a wider process to change the culture of research. The ecosystem of evidence-based medicine is broad, including ethics committees, sponsors, regulators, triallists, reviewers and journal editors. All these stakeholders need to ensure that trial outcomes are developed with patients in mind, that unbiased methods are adhered to, and that results are reported in full and in line with those pre-specified at the trial outset. Until addressed, the problems of how outcomes are chosen, collected, reported and subsequently interpreted will continue to make a significant contribution to the reasons why clinical trial outcomes often fail to translate into clinical benefit for patients.
Abbreviations
COMET:

Core Outcome Measures in Effectiveness Trials
COMPare:

Centre for Evidence-Based Medicine Outcome Monitoring Project
CONSORT:

Consolidated Standards of Reporting Trials
FDA:

Food and Drug Administration
GRADE:

Grading of Recommendations Assessment, Development and Evaluation
JLA:

James Lind Alliance
MCID:

Minimal clinically important difference
OMERACT:

Outcome Measures in Rheumatoid Arthritis Clinical Trials
PRISMA:

Preferred Reporting Items for Systematic Reviews and Meta-Analyses
PSP:

Priority setting partnership
RCT:

Randomised controlled trial
WHO:

World Health Organisation
Declarations
Acknowledgements
Not applicable.
Funding
No specific funding.
Availability of data and materials
Not applicable.
Authors' contributions
CH, BG and KRM equally participated in the design and coordination of this commentary and helped to draft the manuscript. All authors read and approved the final manuscript.
Authors' information
All authors work at the Centre for Evidence-Based Medicine at the Nuffield Department of Primary Care Health Sciences, University of Oxford, Oxford, UK.
Competing interests
BG has received research funding from the Laura and John Arnold Foundation, the Wellcome Trust, the NHS National Institute for Health Research, the Health Foundation, and the WHO. He also receives personal income from speaking and writing for lay audiences on the misuse of science. KRM has received funding from the NHS National Institute for Health Research and the Royal College of General Practitioners for independent research projects. CH has received grant funding from the WHO, the NIHR and the NIHR School of Primary Care. He is also an advisor to the WHO International Clinical Trials Registry Platform (ICTRP). BG and CH are founders of the AllTrials campaign. The views expressed are those of the authors and not necessarily those of any of the funders or institutions mentioned above.
Consent for publication
Not applicable.
Ethics approval and consent to participate
Not applicable.
Open AccessThis article is distributed under the terms of the Creative Commons Attribution 4.0 International License (http://creativecommons.org/licenses/by/4.0/), which permits unrestricted use, distribution, and reproduction in any medium, provided you give appropriate credit to the original author(s) and the source, provide a link to the Creative Commons license, and indicate if changes were made. The Creative Commons Public Domain Dedication waiver (http://creativecommons.org/publicdomain/zero/1.0/) applies to the data made available in this article, unless otherwise stated.
Authors' Affiliations
(1)
Centre for Evidence-Based Medicine, Nuffield Department of Primary Care Health Science, University of Oxford, Radcliffe Observatory Quarter, Oxford, UK