Study protocol
Open Access
Open Peer Review
This article has Open Peer Review reports available.
The Ghent Psychotherapy Study (GPS) on the differential efficacy of supportive-expressive and cognitive behavioral interventions in dependent and self-critical depressive patients: study protocol for a randomized controlled trial
Received: 7 January 2017
Accepted: 27 February 2017
Published: 14 March 2017
Abstract
Background
Major depressive disorder is a leading cause of disease burden worldwide, indicating the importance of effective therapies. Outcome studies have shown overall efficacy of different types of psychotherapy across groups, yet large variability within groups. Although patient characteristics are considered crucial in understanding outcome, they have received limited research attention. This trial aims at investigating the interaction between therapeutic approach (pre-structured versus explorative) and the personality style of patients (dependent versus self-critical), which is considered a core underlying dimension of depressive pathology.
Methods/design
This study is a pragmatic stratified (dependent and self-critical patients) parallel trial with equal randomization (allocation 1:1) conducted in Flanders, Belgium. One hundred and four patients will be recruited and randomized to either 16–20 sessions of cognitive behavioral therapy for depression (pre-structured approach) or 16–20 sessions of short-term psychodynamic psychotherapy for depression (explorative approach) conducted by trained psychotherapists in private practices. The primary outcome is the severity of depression as measured by the Hamilton Rating Scale for Depression at completion of therapy. Secondary outcome measures include self-reported depressive and other symptoms, interpersonal functioning, idiosyncratic complaints, and the presence of the diagnosis of depression. Additional measures include biological measures, narrative material (sessions, interviews), and health care costs.
Discussion
This trial presents the test of an often-described, yet hardly investigated interaction between important personality dimensions and therapeutic approach in the treatment of depression. Results could inform therapists on how to match psychotherapeutic treatments to specific personality characteristics of their patients.
Trial registration
Isrctn.com, ISRCTN17130982. Registered on 2 February 2015.
Keywords
Major depressive disorderCognitive behavioral therapyShort-term psychodynamic psychotherapyPersonality styles
Background
Major depressive disorder (MDD) is the leading cause of disability worldwide and a major contributor to the overall global burden of disease [1]. This implies that further development of effective therapies is essential for public health. Therapies for MDD promoted as evidence-based are antidepressant medication and different types of psychotherapy, including cognitive behavioral therapy (CBT) and psychodynamic therapy (PDT) [2, 3]. While outcome studies demonstrate overall efficacy of these therapies across groups, they also reveal substantial variability within groups between individual patients [4]. Consequently, identifying patient-treatment interaction effects in outcome research is a major challenge in optimizing the efficiency of psychotherapy.
There is preliminary evidence suggesting that the patient's global personality structure in terms of dependency and self-criticism predicts differential treatment response to the basic nature of the therapy in terms of being directive or explorative. A vast amount of empirical research from both psychodynamic [5] and cognitive behavioral [6] points of view identified two personality traits — dependency and self-criticism — that both render a person vulnerable to MDD [7]. Persons with predominantly dependent personalities are characterized by interpersonal dependency and strong wishes to be loved and protected. Depressive complaints are marked by feelings of helplessness, weakness, and intense fears of being abandoned. Persons with a predominantly self-critical personality on the other hand are more focused on achievement and living up to their own high standards and expectations. Depressive complaints are more related to the experience of failure to live up to these standards and feelings of inferiority and guilt [5, 6, 8]. It was demonstrated that, depending on the dominant underlying personality traits, patients with MDD are susceptible to specific life stressors and show distinct depressive symptom patterns [9, 10]. Furthermore, recent naturalistic outcome research [4, 7, 11–13] suggests that dependent and self-critical MDD patients respond differently to directive versus explorative therapies. Directive therapies such as cognitive behavioral therapy, as the most studied directive approach, are more "structured, present-oriented psychotherapies directed toward solving current problems and teaching clients skills to modify dysfunctional thinking and behavior [14]". In explorative approaches, such as most psychodynamically oriented psychotherapies, therapeutic interventions are tuned to the spontaneous way in which patients present new material (for example narrative descriptions of thoughts, emotions, and complaints) and their broader (interpersonal and historical) context. Although explorative approaches withhold from directive interventions, they are compatible with the use of a manual that prescribes the set of theoretical principles and therapeutic techniques that are used during the explorations [15, 16].
Post hoc analyses suggest that different mediators of change are at work in dependent and self-critical patients. Directive interventions seem to alleviate depressive symptoms in dependent patients because the structure and support positively affect the interpersonal functioning of the patients; explorative interventions appear to alleviate depressive symptoms in self-critical patients because they promote intrapersonal insight [4, 7, 10, 12, 13]. Further post hoc analysis [4] even suggested that explorative approaches might inhibit therapeutic progress in dependent patients, because they experience the lack of directedness as a lack of support. Similarly, directive approaches might inhibit progress in self-critical patients, because they experience the therapist's directedness and structure as coercive [4, 7, 10, 12, 13].
With the increasing emphasis on directive and structured treatment approaches, it might be of major clinical importance to explore the way more directive and more open treatment styles suit different personality styles. In existing research on differential efficacy of interventions in dependent and self-critical patients, researchers always re-analyzed data from previously executed psychotherapy research (see descriptions above). Judges first distinguished between dependent and self-critical MDD patients on the basis of pre-treatment case formulations and subsequently studied in which types of therapy the highest efficacy was achieved [4, 10]. Post hoc methodology is a valuable tool for generating new ideas; however, it lacks internal consistency to yield a firm evidential basis [17]. Rather, this topic requires a design in which patients are assigned to a controlled experimental treatment procedure.
Methods/design
Study aims
The primary aim is to present an experimental test of the main hypothesis deduced from the post hoc observations discussed above concerning differential efficacy of directive (CBT) and explorative treatment (PDT) for different personality types. In this trial, the central hypothesis that is tested is that there is a significant interaction effect between type of patient (dependent versus self-critical) and type of therapy (directive versus explorative) in predicting outcome. More specifically, we expect that directive treatment will yield significantly better outcome in terms of observer-rated depression severity in dependent compared to self-critical patients, while explorative treatment will yield significantly better outcome in terms of observer-rated depression severity in self-critical compared to dependent patients.
Secondary aims concern secondary outcomes such as percentage of patients in remission and recovery, self-reported depression, symptom severity and well-being, and interpersonal functioning. Furthermore, mediators and processes of change, clinical predictors, patient perspectives on change and helpful elements, impact of research on therapists and patients, biomarkers of depression, and long-term outcomes among others will be explored in a number of consecutive studies following the main trial.
Study design
The study will be a pragmatic stratified (dependent and self-critical patients) parallel trial with equal randomization (allocation ratio 1:1) conducted in Flanders, Belgium. The study compares a predominantly explorative and a predominantly directive intervention, namely short-term psychodynamic psychotherapy for depression (STPP, [
15
,
18
]) and cognitive behavioral therapy for depression (CBT-D, [
19
,
20
]) respectively. The study design as described here adheres to the Standard Protocol Items: Recommendations for Interventional Trials (SPIRIT) guidelines [
21
,
22
], including a SPIRIT flow diagram (Fig.
1
), SPIRIT schedule (Table
1
), and checklist (Additional file
1
).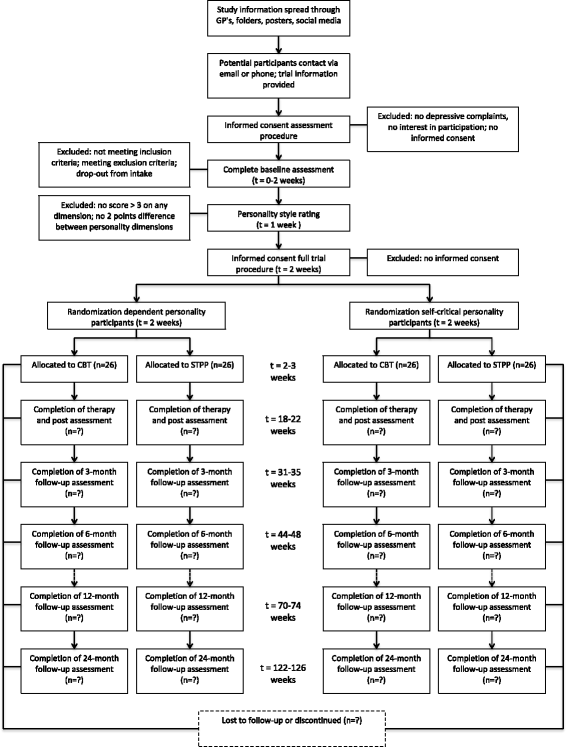 Table 1
SPIRIT schedule of enrollment, interventions, and assessments
Study period

Enrollment

Allocation

Post-allocation

Close-out 1

Close-out 2

Time point

-t1

0

t1

t2

t3

t4

t5

t6

t7

t8

Enrollment

 Eligibility screening

x

 Informed consent

x

x

 Allocation

x

Interventions

 CBT

x

x

x

 STPP

x

x

x

Assessment

 - Interviews:

  HRSD

x

x

  SCID I

x

x

  SCID II

x

  CDI

x

  CCI

x

x

x

x

x

x

 - Self-report scales:

  BDI-II, SCL-90, OQ-45, IIP-32

x

x

x

x

x

x

x

x

  DASS, VAS

x

x

x

x

x

x

x

x

x

  Idiosyncratic scale

x

x

x

x

x

x

x

x

  WAV

x

x

  DEQ, PSI

x

x

x

x

  VTCI, ECR

x

x

  ZIL

x

x

x

 - Biological measures

  Saliva samples

x

x

x

x

x

x

x

x

x

  Blood samples

x

x

  Hair samples

x

x

x

 - Therapist measures

  Structured report, VAS

x

x

x

  TRQ, VAS

x

x
Participants/eligibility criteria
We will recruit adult patients living in Flanders, Belgium with a depressive disorder who meet the following inclusion criteria:
Current diagnosis of MDD according to Diagnostic and Statistical Manual of Mental Disorders, 4th Edition (DSM-IV)

Hamilton Rating Scale for Depression (HRSD, [23]) total score >14

Age between 18 and 65 years old

Sufficient knowledge of the Dutch language

Dominance of either dependent or self-critical personality characteristics (prototype matching procedure [24])
Patients on antidepressant medication can still meet inclusion criteria and can participate in the study if they have been on a stable dose for 4 weeks or more. All medication use and changes will be monitored in detail throughout the study.
We aim for a representative sample (to maximize external validity) by keeping the exclusion criteria to a minimum. Exclusion criteria are any of the following:
Current diagnosis of psychosis, delusions or bipolar disorder

Acute suicidal risk

Primary diagnosis of substance abuse/dependence

Evidence of at least one clinically significant medical condition (e.g., brain damage, degenerative neurological condition) causing cognitive or physical impairments that might prevent full participation in the treatments

Participation in another ongoing psychotherapeutic treatment

Explicit preference for a specific type of therapy or a male or female therapist (which implies participants cannot consent to the procedure of random allocation to treatment)
Recruitment and baseline assessment
The participant flow throughout the study is shown in Fig. 1.
Participants are recruited both by means of referrals from general practitioners and mental health care centers, and by self-referral. Recruitment information is spread via posters, folders, local media, and online publications (social media, etc.). All recruitment information is focused on potential participants who experience depressive complaints and have a voluntary motivation to start psychotherapeutic treatment. Participants apply for the study via email or telephone. After application, an initial phone screening takes place in which the patient is informed about the study procedure and relevant inclusion and exclusion criteria. When there are indications of depressive complaints and the possible participant consents to the research intake procedure, baseline assessment starts.
The baseline assessment takes place at the Faculty of Psychology and Educational Sciences of Ghent University and is conducted by a team of postgraduate research assistants trained in the respective procedures. Before the first intake interview, patients receive a baseline battery of questionnaires and provide eight saliva samples (a morning and evening sample for 4 consecutive days) to measure baseline symptom presence and severity, personality characteristics, and stress levels before the first face-to-face contact with the researcher. During the face-to-face assessment, the Clinical Diagnostic Interview (CDI, [25]), the HRSD [23], and the Structured Clinical Interview for DSM-IV Axis I disorders [26] and Axis II disorders [27] are administered in two respective interview appointments with the same researcher. The CDI is a semi-structured interview that assesses both the current clinical complaints and a range of current and lifetime inter- and intrapersonal experiences. This interview is used to rate the dependent and self-critical personality organization by means of prototype matching [24]. The rating takes place after the CDI and before the HRSD and SCID to limit any possible bias by the formal diagnosis. Three independent and trained researchers (interviewer, one postgraduate researcher, and one academic staff researcher) conduct the prototype matching. They each score the interview individually and consequently discuss their scores. To be possibly included in the trial, a score of at least 3 on a scale of 1 to 5 for one of the personality dimensions and a minimum of 2 points difference with the score on the other personality dimension are required. When no agreement can be reached, the difference in consensus scores between dependent and self-critical personality dimensions is less than 2 points, or there is no score of at least 3 on either dimension, patients are excluded from the trial. The HRSD and SCID-I depression module are used to assess severity of depressive symptoms and the diagnosis of MDD, respectively. The SCID-I and II are also used to assess co-morbidity and exclusion criteria. The baseline procedure finally yields the collection of a hair sample and a blood sample. Together with the saliva samples, these form the baseline for the biological component of the study.
When eligible for the study, patients receive further written and oral information about the interventions and the full research procedure and again sign the informed consent form before being randomized into one of the treatment conditions. They also indicate whether they can be contacted again after the study to allow designing additional waves in the study and extending the follow-up period.
Patients who are not eligible for the study (either by not meeting inclusion criteria or meeting exclusion criteria), yet have a request for psychotherapy, are referred to appropriate care.
Study setting
The study is carried out by the University of Ghent, Faculty of Psychology and Educational Sciences, Department of Psychoanalysis and Clinical Consulting (Prof. Dr. Mattias Desmet, Prof. Dr. Reitske Meganck) in collaboration with the University of Utrecht (Prof. Dr. Claudi Bockting) and Ghent University Hospital (Prof. Dr. Chris Baeken). The intake procedure, peri-, post- and follow-up assessments all take place at Ghent University. The psychotherapeutic treatments take place in private practices in the area of Ghent, a medium-sized city in Flanders, Belgium, and are carried out by clinical psychologists with psychotherapy training who have been additionally trained to conduct specific treatments for the purpose of this study. Prof. Dr. Mattias Desmet from Ghent University is responsible for the training of the psychodynamic therapists. Prof. Dr. Claudi Bockting from the University of Utrecht is responsible for the training of cognitive behavioral therapists. Statistical analyses are supported by independent statisticians from the Department of Data Analysis at Ghent University.
Outcomes and study measures
Randomization and concealment
A (stratified) blocked randomization procedure with permuted blocks and allocation concealment to distribute dependent and self-critical patients evenly across the two types of treatment is used. An independent statistician from the Free University in Amsterdam (The Netherlands) generated the allocation sequence using the R package "Block Tools" [53]. Six trained research assistants who are blind to the allocation sequence conduct intake assessment. Only after the decision concerning eligibility is reached, will another researcher, unaware of any information on the patient, be contacted. This researcher handles the assignment to a treatment condition using the pre-generated allocation sequence. The peri- and post-interviews and follow-up assessments are conducted by the same research assistant who conducted the intake assessment, to minimize drop-out of the study. An independent researcher who is blind to the interventions and the study hypotheses conducts the primary outcome assessment (HRSD, SCID-I) immediately after treatment termination and before the post-interview (extended CCI) by the research assistant.
Determination of sample size
Based on the literature, it can be expected that a wrong match between personality style and treatment approach can produce adverse treatment effects [4, 7, 10, 12, 13]. Therefore, we expect a large interaction effect between intervention type and personality size on the primary outcome of size 1.1 (Cohen's d). To detect such an effect at the 5% significance level with at least 80% power, about 26 participants are needed in every intervention group in both strata (i.e., about 104 participants in total).
Data analysis
Continuous variables will be summarized with means and standard deviations, median and interquartile ranges, and categorical variables with frequency tables.
The post-treatment score on the HRSD is the primary outcome. The primary hypothesis on the interaction between intervention type and personality style will be tested using a mixed model for the post-treatment score on the HRSD with baseline HRSD score (covariate), type of therapy, personality style, and the interaction of type of therapy and personality style as fixed effects and a random effect for every therapist. The latter is included to account for potential correlation in outcomes of patients assigned to the same therapist. Following the intention-to-treat approach, all randomized patients will be included in the analysis. The proposed mixed model approach is valid under the missing at random (MAR) assumption.
Secondary outcomes based on interviews (SCID and CCI) will be analyzed similarly to the primary outcome. Secondary outcomes based on self-reports (BDI, SCL, OQ, DASS, and idiosyncratic complaints), which are obtained at multiple sessions, will be analyzed using a mixed effects model approach with fixed effects of type of therapy, personality style, and its interaction at every time point; and a random effect for every therapist. The three-way interaction between therapy type, personality style, and time will be assessed to corroborate the primary hypothesis. The estimated evolution over time in each therapy group for each stratum will be graphically displayed. Effect sizes, reliable change indices (RCIs), and clinically significant change will be reported when possible for primary and secondary outcomes.
Ethical principles
The ethical committee of Ghent University Hospital approved the entire study design and informed consent forms. Participants receive extensive written and oral explanation of all research procedures, the implications of their participation, and consent forms for both the research procedures and publishing of results. An elaborate data management plan safeguards the careful handling of confidential data in all stages of the research process.
If a serious adverse event (SAE, e.g., critical suicide risk) manifests, a Data Safety Monitoring Plan (DSMP) will be activated to decide whether or not the patient must be referred for additional interventions (e.g., antidepressant or other medication, residential care). Participants requiring mental health care in any of the follow-up measurements will be referred to adequate care.
Data management and dissemination plan
The handling of the rich data gathered within this study is carefully planned in line with ethical considerations of privacy and confidentiality. Contact details of participants are kept in an Excel spreadsheet together with the study identifier in a separate locked location and are never used to communicate to any third party other than the researchers who require contact details to contact the participants. Quantitative data are entered into SPSS matrices throughout the study. A postdoctoral researcher conducts a biweekly control of data input. After full completion of data gathering for a participant, an additional check is performed. All data are stored on a secured university server, and back-ups are kept on encrypted USB drives. Therapists use a secured server facilitation to transfer audio files of therapy sessions to the researchers.
The features of the study and any changes to the study design are reported on Open Science Framework [54]. Quantitative data matrices without any identifying information will be made available through OSF as well. All data that imply confidentiality considerations will not be shared publicly, but are saved on the above-mentioned secured university server and can be accessed under specific conditions upon request.
This study results in a wealth of data allowing the investigation of research questions far beyond the primary hypothesis. Consequently, after the primary publication of trial results using primary and secondary outcomes, a number of studies are planned focusing, among other things, on triangulation (comparing different ways of mapping personality style), process clinical predictors (e.g., therapeutic relationship), first-person experiences (e.g., qualitative study of the CCIs), and biomarkers for depression.
Discussion
Depressive problems are the most widely diagnosed and most widely investigated psychological problems. Numerous outcome studies have indicated the efficacy of psychotherapy and in some cases psychotherapy with medication for depressive disorders [55]. Effect sizes found in these countless randomized controlled trials comparing different interventions or interventions with no treatment are remarkably similar across studies. Moreover, the famous Dodo bird verdict, stating that there is no difference in efficacy between different types of treatment, especially holds in the context of depression [56, 57]. Nevertheless, efficacy remains limited [58], relapse rates remain rather high [59], and, most importantly, there is huge within-group variability observed in outcome research [60, 61]. Despite these important observations, little research aims at disentangling this variability within groups. In this study we want to analyze the effect of an important client variable in depression theory — namely, the personality style — and contribute to the adaptation of therapy to patient characteristics. These patient characteristics are shown to explain a large part of therapy outcomes [62, 63]; thus, the importance of exploring possibly important patient characteristics is beyond doubt. As Cuijpers [55] indicated, "more knowledge on who benefits from which treatment are important goals for future research (p. 292)."
Whether or not the primary hypothesis is confirmed, the unique properties of this study combining multiple methods and perspectives allow further in-depth exploration of processes of change, and both hindering and helpful factors in therapy. Moreover, the richness of the quantitative, qualitative, and biological data administered at multiple time points allows one to extend the primary research on group level with idiographic approaches.
Before designing the current trial, extensive piloting (naturalistic setting, 28 cases followed throughout the whole phase of therapy and follow-up) was done to test and perfect research procedures that are feasible both for participants and therapists. Also, concerning data collection and storage, the pilot study allowed us to construct a detailed manual on all the steps in the whole research process to guarantee that all research assistants can be trained and follow exactly the same procedures.
Recruitment is proceeding as planned, and several strategies (e.g., managing social media, communication with referrers) are implemented to manage recruitment in a timely manner. Recruitment is expected to last one and one-half years.
Trial status
Recruitment is ongoing.
Abbreviations
BDI-II:

Beck Depression Inventory II
CBT:

Cognitive behavioral therapy
CCI:

Client Change Interview
CDI:

Clinical Diagnostic Interview
DASS:

Depression Anxiety Stress Scales
DEQ:

Depressive Experiences Questionnaire
ECR:

Experiences in Close Relationships questionnaire
HRSD:

Hamilton Rating Scale for Depression
IIP-32:

Inventory of Interpersonal Problems-32
OQ-45:

Outcome Questionnaire 45
OSF:

Open Science Framework
PDT:

Psychodynamic therapy
PSI:

Personal Style Inventory
RCI:

Reliable Change Index
SCID-I:

Structured Clinical Interview for DSM-IV-TR Axis I Disorders
SCID-II:

Structured Clinical Interview for DSM-IV-TR Axis II Disorders
SCL-90:

Symptom Checklist -90
SPIRIT:

Standard Protocol Items: Recommendations for Interventional Trials
STPP:

Short-term psychoanalytic psychotherapy
TRQ:

Therapist Relationship Questionnaire
VAS:

Visual analogue scale
VTCI:

Short Temperament and Character Inventory
ZIL:

Self-rating Inventory for Post Traumatic Stress Disorder
Declarations
Acknowledgements
Not applicable.
Funding
The project was funded by Ghent University Special Research Fund (BOF; bof@ugent.be) (basic trial; ref: BOFSTA2015002501) and by the Research Foundation - Flanders (FWO; post@fwo.be) (qualitative part of the study; ref: FWO3FO2015001901). Both funding sources peer-reviewed and approved the project but have no role or authority in any part of the design, conduct, or reporting of the study.
Availability of data and materials
Analyses of data will be conducted in the future. Data that are completely anonymous will be made available through Open Science Framework and as additional material in publications when journals allow such procedures. Other data can be accessed under specific conditions (in line with informed consent principles) and in agreement with the primary researchers (RM and MD).
Authors' contributions
MD and RM conceived the study. RM, MD, and CB developed the study design. RI, FT, RDG, MDS, KVN, and SV contributed to the design of the study. MD and RM reviewed relevant literature. FT registered the trial. RM drafted the manuscript. MD, CB, RI, FT, RDG, MDS, KVN, VH, GH, UN, and SV contributed to drafting of the manuscript. RI is responsible for daily supervision of activities. FT, RDG, MDS, KVN, VH, GH, and UN are responsible for conducting research procedures. RM is responsible for randomization of participants. TL is responsible for designing statistical procedures and drafting this part of the manuscript. All authors read and approved the final manuscript.
Authors' information
Not applicable.
Competing interests
The authors declare that they have no competing interests.
Consent for publication
All participants provide consent to publish results, both on a group level and individually, given adequate anonymization. All data are analyzed with respect for confidentiality. This information is included in the informed consent forms and signed accordingly.
Ethics approval and consent to participate
The Ethical Committee of Ghent University Hospital approved the full study description and the final version of the written informed consent letters (ref: B670201523446) in May 2015. An amendment was approved in September 2015 for the expansion of the biological part of the study (ref: B670201523446). Participants receive oral and written information on the full research procedure before intake and before randomization. They sign informed consent on these two occasions for the intake procedure and full therapy and research procedure, respectively.
Open AccessThis article is distributed under the terms of the Creative Commons Attribution 4.0 International License (http://creativecommons.org/licenses/by/4.0/), which permits unrestricted use, distribution, and reproduction in any medium, provided you give appropriate credit to the original author(s) and the source, provide a link to the Creative Commons license, and indicate if changes were made. The Creative Commons Public Domain Dedication waiver (http://creativecommons.org/publicdomain/zero/1.0/) applies to the data made available in this article, unless otherwise stated.
Authors' Affiliations
(1)
Department of Psychoanalysis and Clinical Consulting, Faculty of Psychology and Educational Sciences, Ghent University, Ghent, Belgium
(2)
Department of Clinical Psychology, Social and Behavioral Sciences, Universiteit Utrecht, Utrecht, Netherlands
(3)
Department of Data Analysis, Faculty of Psychology and Educational Sciences, Ghent University, Ghent, Belgium
(4)
Department of Psychiatry and Medical Psychology, Faculty of Medicine and Health Sciences, Ghent University, Ghent, Belgium
References
World Health Organization. Depression fact sheet. Geneva: WHO; 2016. http://www.who.int/mediacentre/factsheets/fs369/en/. Accessed 14 Sept 2016.Google Scholar
Abbass AA, Hancock JT, Henderson J, Kisely S. Short-term psychodynamic psychotherapies for common mental disorders. Cochrane Database Syst Rev. 2006;4:CD004687.Google Scholar
Driessen E, Cuijpers P, de Maat S, Abbass AA, De Jonghe F, Dekker JJM. The efficacy of short-term psychodynamic psychotherapy for depression: a meta-analysis. Clin Psychol Rev. 2010;30:25–36.View ArticlePubMedGoogle Scholar
Blatt SJ, Shahar G. Psychoanalysis: with whom, for what, and how? Comparison with psychotherapy. J Am Psychoanal Assoc. 2004;52:393–447.View ArticlePubMedGoogle Scholar
Blatt SJ. Levels of object representation in anaclitic and introjective depression. Psychoanal Study Child. 1974;29:107–57.PubMedGoogle Scholar
Beck AT. Cognitive therapy of depression: new perspectives. In: Clayton PJ, Barett JE, editors. Treatment of depression: old controversies and new approaches. New York: Raven; 1983. p. 265–90.Google Scholar
Blatt SJ. The patient's contribution to the therapeutic process: a Rogerian-psychodynamic perspective. Psychoanal Psychol. 2013;30:139–66.View ArticleGoogle Scholar
Blatt SJ. Experiences of depression: theoretical, clinical, and research perspectives. Washington, DC: American Psychological Association; 2004.View ArticleGoogle Scholar
Desmet M, Vanheule S, Groenvynck H, Verhaeghe P, Vogel J, Bogaerts S. The Depressive Experiences Questionnaire: an inquiry into the different scoring procedures. Eur J Personal Assess. 2007;23:89–98.View ArticleGoogle Scholar
Zuroff DC, Mongrain M, Santor DA. Conceptualizing and measuring personality vulnerability to depression: comment on Coyne and Whiffen (1995). Psychol Bull. 2004;130:489–511.View ArticlePubMedGoogle Scholar
Blatt SJ. Two primary configurations of psychopathology and change in thought disorder in long-term intensive inpatient treatment of seriously disturbed young adults. Am J Psychiatry. 2007;164:1561–7.View ArticlePubMedGoogle Scholar
Vermote R, Fonagy P, Vertommen HJ, Stroobants R, Vandeneede B, Corvelyn J, et al. Outcome and outcome trajectories of personality disordered patients. J Personal Disord. 2009;23:294–307.View ArticleGoogle Scholar
Vermote R, Lowyck B, Luyten P, Vertommen H, Corveleyn J, Verhaest I, et al. Process and outcome in psychodynamic hospitalized-based treatment for patients with a personality disorder. J Nerv Ment Dis. 2010;198:110–5.View ArticlePubMedGoogle Scholar
Beck Institute for Cognitive Behavior Therapy. What is cognitive behavior therapy (CBT)? https://www.beckinstitute.org/get-informed/what-is-cognitive-therapy/. Accessed 12 Sept 2016.
Luborsky L. Principles of psychoanalytic psychotherapy. A manual for supportive-expressive treatment. New York: Basic Books; 1984.Google Scholar
Connolly Gibbons MB, Thompson SM, Scott K, Schauble LA, Mooney T, Thompson D, et al. Supportive-expressive dynamic psychotherapy in the community mental health system: a pilot effectiveness trial for the treatment of depression. Psychotherapy. 2012;49:303–16.View ArticlePubMed CentralGoogle Scholar
Chambless DL, Hollon SD. Defining empirically supported therapies. J Consult Clin Psychol. 1998;66:7–18.View ArticlePubMedGoogle Scholar
Leichsenring F, Schauenburg H. Empirically supported methods of short-term psychodynamic therapy in depression — towards an evidence-based unified protocol. J Affect Disord. 2014;169:128–43.View ArticlePubMedGoogle Scholar
Bockting C, Huibers M. Protocollaire behandeling van patiënten met een depressieve stoornis. In: Keijsers G, van Minnen A, Hoogduin H, editors. Protocollaire behandelingen voor volwassenen met psychiatrische klachten, vol. 1. Amsterdam: Boom; 2011.Google Scholar
Beck AT, Rush AJ, Shaw BF, Emery G. Cognitive therapy of depression: a treatment manual. New York: Guilford Press; 1979.Google Scholar
Chan AW, Tetzlaff JM, Altman DG, Laupacis A, Gøtzsche PC, Krleža-Jerić K, et al. SPIRIT 2013 statement: defining standard protocol items for clinical trials. Ann Intern Med. 2013;158:200–7.View ArticlePubMedPubMed CentralGoogle Scholar
Chan AW, Tetzlaff JM, Gøtzsche PC, Altman DG, Mann H, Berlin J, et al. SPIRIT 2013 explanation and elaboration: guidance for protocols of clinical trials. BMJ. 2013;346:e7586.View ArticlePubMedPubMed CentralGoogle Scholar
Hamilton M. Development of a rating scale for primary depressive illness. Br J Soc Clin Psychol. 1967;6:278–96.View ArticlePubMedGoogle Scholar
Werbart A, Forsström D. Changes in anaclitic-introjective personality dimensions, outcomes and psychoanalytic technique: a multi-case study. Psychoanal Psychother. 2014;28:397–410.View ArticleGoogle Scholar
Westen D. The clinical diagnostic interview. Atlanta: Emory University; 2007.Google Scholar
First MB, Spitzer RL, Gibbon M, Williams JBW. Structured Clinical Interview for DSM-IV-TR Axis I Disorders, Research Version, Patient Edition. (SCID-I/P). New York: Biometrics Research, New York State Psychiatric Institute; 2002.Google Scholar
First MB, Gibbon M, Spitzer RL, Williams JBW, Benjamin LS. Structured Clinical Interview for DSM-IV Axis II Personality Disorders, (SCID-II). Washington, DC: American Psychiatric Press; 1997.28. Lewinsohn PM, Munoz RF, Youngren MA, Zeiss AM. Control your depression. 2nd ed. Englewood Cliffs: Prentice-Hall; 1986.Google Scholar
Lewinsohn PM, Munoz RF, Youngren MA, Zeiss AM. Control your depression. 2nd ed. Englewood Cliffs: Prentice-Hall; 1986.Google Scholar
Luborsky L, Crits-Christoph P. Understanding transference: the core conflictual relationship theme method. 2nd ed. Washington, DC: American Psychological Association; 1998.View ArticleGoogle Scholar
Hilsenroth MJ, Blagys MD, Ackerman SJ, Bonge DR, Blais MA. Measuring psychodynamic-interpersonal and cognitive-behavioral techniques: development of the comparative psychotherapy process scale. Psychotherapy. 2005;42:340–56.View ArticleGoogle Scholar
Nezu AM, Ronan GF, Meadows EA, McClure KS. Practioner's guide to empirically based measures of depressions. Dordrecht: Kluwer Academic Publishers; 2000.Google Scholar
Beck AT, Steer RA, Brown GK. Beck Depression Inventory. 2nd ed. San Antonio: Harcourt Assessment; 1996.Google Scholar
Derogatis LR. SCL-90-R Administration, scoring and procedures manual. 2nd ed. Towson: Clinical Psychometric Research; 1992.Google Scholar
Lovibond SH, Lovibond PF. Manual for the Depression Anxiety Stress Scales. Sydney: Psychology Foundation of Australia; 1995.Google Scholar
Lambert MJ, Kahler M, Harmon C, Burlingame GM, Shimokawa K. Administration and scoring manual for the Outcome Questionnaire-45.2. Salt Lake City: OQMeasures; 2011.Google Scholar
Horowitz LM, Alden LE, Wiggins JS, Pincus AL. Inventory of Interpersonal Problems. London: The Psychological Corporation; 2000.Google Scholar
Hill CE, Lambert MJ. Methodological issues in studying psychotherapy processes and outcome. In: Lambert MJ, editor. Bergin and Garfield's handbook of psychotherapy research and behavior change. 5th ed. New York: Wiley; 2004.Google Scholar
Bagby RM, Gilchrist EJ, Rector NA, Dickens SE, Joffe RT, Levitt A, Levitan RD, Kennedy SH. The stability and validity of the sociotropy and autonomy personality dimensions as measured by the Revised Personal Style Inventory. Cogn Ther Res. 2001;25:765–79.View ArticleGoogle Scholar
Zuroff DC, Moskowitz DS, Wielgus MS, Powers TA, Franko DL. Construct validation of the dependency and self-criticism scales of the Depressive Experiences Questionnaire. J Res Pers. 1983;17:226–41.View ArticleGoogle Scholar
Desmet M. Hysterical and obsessive-compulsive depression: a psychometric study. 2007. https://biblio.ugent.be/publication/471796. Accessed 10 Oct 2014.Google Scholar
Hovens JE, Bramsen I, van der Ploeg HM. Zelfinventarisatielijst posttraumatische stressstoornis. Amsterdam: Pearson Assessment and Information BV; 2009.Google Scholar
Fraley RC, Waller NG, Brennan KA. An item-response theory analysis of self-report measures of adult attachment. J Pers Soc Psychol. 2000;78:350–65.View ArticlePubMedGoogle Scholar
Duijsens IJ, Spinhoven P. Handleiding van de Nederlandse Verkorte Temperament en Karakter vragenlijst. Leiderdorp: Datec; 2001.Google Scholar
van Rijsbergen GD, Burger H, Hollon SD, Elgersma HJ, Kok GD, Dekker J, et al. How do you feel? Detection of recurrent major depressive disorder using a single-item screening tool. Psychiatry Res. 2014;220:287–93.View ArticlePubMedGoogle Scholar
Falkenström F, Granström F, Holmqvist R. Therapeutic alliance predicts symptomatic improvement session by session. J Couns Psychol. 2013;60:317–28.View ArticlePubMedGoogle Scholar
Horvath AO, Del Re A, Fluckiger C, Symonds D. Alliance in individual psychotherapy. Psychotherapy. 2011;48:9–16.View ArticlePubMedGoogle Scholar
Horvath AO, Greenberg LS. Development and validation of the working alliance inventory. J Couns Psychol. 1989;36:223–33.View ArticleGoogle Scholar
Hatcher RL, Gillaspy JA. Development and validation of a revised short version of the working alliance inventory. Psychother Res. 2006;16:12–25.View ArticleGoogle Scholar
Zittel C, Westen D. The Therapist Response Questionnaire. Atlanta: Emory University, Departments of Psychology and Psychiatry Behavioral Science; 2003.Google Scholar
Elliott R, Slatick E, Urman M. Qualitative change process research on psychotherapy: Alternative strategies. Psychologische Beiträge. 2001;43:69–111.Google Scholar
Douglas JL, Harmer CJ. Early morning cortisol response and emotional processing in adults exposed to postnatal depression in infancy. Eur Psychiatry. 2011;26:479–81.View ArticlePubMedGoogle Scholar
Russel E, Koren G, Rieder M, Van Uum S. Hair cortisol as a biological marker of chronic stress: current status, future directions and unanswered questions. Psychoneuroendocrinology. 2012;37:589–601.View ArticleGoogle Scholar
Moore RT, Schnakenberg K. Package 'Block Tools'. 2015. https://cran.r-project.org/web/packages/blockTools/blockTools.pdf. Accessed 15 Aug 2015.Google Scholar
Open Science Framework. The Ghent Psychotherapy Study (GPS). https://osf.io/mf2d7. Accessed and updated regularly.
Cuijpers P. The future of psychotherapy research: stop the waste and focus on issues that matter. Epidemiol Psychiatr Sci. 2016;25:291–4.View ArticlePubMedGoogle Scholar
Barth J, Munder T, Gerger H, Nüesch E, Trelle S, Znoj H, et al. Comparative efficacy of seven psychotherapeutic interventions for patients with depression: a network meta-analysis. PLoS Med. 2013. doi:10.1371/journal.pmed.1001454.PubMedPubMed CentralGoogle Scholar
Cuijpers P, van Straten A, Andersson G, van Oppen P. Psychotherapy for depression in adults: a meta-analysis of comparative outcome studies. J Consult Clin Psychol. 2008;76:909–22.View ArticlePubMedGoogle Scholar
Cuijpers P, Smit F, Bohlmeijer ET, Hollon SD, Andersson G. Is the efficacy of cognitive behaviour therapy and other psychological treatments for adult depression overestimated? A meta-analytic study of publication bias. Br J Psychiatry. 2010;196:173–8.View ArticlePubMedGoogle Scholar
Steinert C, Hofmann M, Kruse J, Leichsenring F. Relapse rates after psychotherapy for depression — stable long-term effects? A meta-analysis. J Affect Disord. 2014;168:107–18.View ArticlePubMedGoogle Scholar
Stiles WB, Barkham M, Mellor-Clark J, Connell J. Effectiveness of cognitive-behavioral, person-centered, and psychodynamic therapies in UK primary-care routine practice: replication in a larger sample. Psychol Med. 2008;38:677–88.PubMedGoogle Scholar
Hollon SD. The efficacy and acceptability of psychological interventions for depression: where we are now and where we are going. Epidemiol Psychiatr Sci. 2016;25:295–300.View ArticlePubMedGoogle Scholar
Lambert MJ. Psychotherapy outcome research: implications for integrative and eclectic therapists. In: Norcross JC, Goldfried MR, editors. Handbook of Psychotherapy Integration. New York: Basic Books; 1992. p. 94–129.Google Scholar
Cuijpers P, Driessen E, Hollon SD, Van Oppen P, Barth J, Andersson G. The efficacy of non-directive supportive psychotherapy for adult depression: a meta-analysis. Clin Psychol Rev. 2012;32:280–91.View ArticlePubMedGoogle Scholar