Study protocol

Open Access

Open Peer Review
This article has Open Peer Review reports available.
Concurrent transcranial direct current stimulation and progressive resistance training in Parkinson's disease: study protocol for a randomised controlled trial
Received: 19 February 2016
Accepted: 23 June 2016
Published: 19 July 2016
Abstract
Background
Parkinson's disease (PD) results from a loss of dopamine in the brain, leading to movement dysfunctions such as bradykinesia, postural instability, resting tremor and muscle rigidity. Furthermore, dopamine deficiency in PD has been shown to result in maladaptive plasticity of the primary motor cortex (M1). Progressive resistance training (PRT) is a popular intervention in PD that improves muscular strength and results in clinically significant improvements on the Unified Parkinson's Disease Rating Scale (UPDRS). In separate studies, the application of anodal transcranial direct current stimulation (a-tDCS) to the M1 has been shown to improve motor function in PD; however, the combined use of tDCS and PRT has not been investigated.
Methods/design
We propose a 6-week, double-blind randomised controlled trial combining M1 tDCS and PRT of the lower body in participants (n = 42) with moderate PD (Hoehn and Yahr scale score 2–4). Supervised lower body PRT combined with functional balance tasks will be performed three times per week with concurrent a-tDCS delivered at 2 mA for 20 minutes (a-tDCS group) or with sham tDCS (sham group). Control participants will receive standard care (control group). Outcome measures will include functional strength, gait speed and variability, balance, neurophysiological function at rest and during movement execution, and the UPDRS motor subscale, measured at baseline, 3 weeks (during), 6 weeks (post), and 9 weeks (retention). Ethical approval has been granted by the Deakin University Human Research Ethics Committee (project number 2015-014), and the trial has been registered with the Australian New Zealand Clinical Trials Registry (ACTRN12615001241527).
Discussion
This will be the first randomised controlled trial to combine PRT and a-tDCS targeting balance and gait in people with PD. The study will elucidate the functional, clinical and neurophysiological outcomes of combined PRT and a-tDCS. It is hypothesised that combined PRT and a-tDCS will significantly improve lower limb strength, postural sway, gait speed and stride variability compared with PRT with sham tDCS. Further, we hypothesise that pre-frontal cortex activation during dual-task cognitive and gait/balance activities will be reduced, and that M1 excitability and inhibition will be augmented, following the combined PRT and a-tDCS intervention.
Trial registration
Australian New Zealand Clinical Trials Registry ACTRN12615001241527. Registered on 12 November 2015.
Keywords
Parkinson's disease
Balance
Gait
Neuroplasticity
Non-invasive brain stimulation
fNIRS
Background
Parkinson's disease (PD) is a progressive neurodegenerative movement disorder characterised by depletion of dopamine in the substantia nigra, resulting in physical symptoms such as bradykinesia, postural instability, resting tremor and muscle rigidity. PD is the second most common neurodegenerative disorder [1], affecting 1 % of people older than 60 years of age [2], which is of particular concern as populations age. PD causes significant impairments in gait and balance, which are often unresolved by standard dopamine pharmacological treatment [3] and result in reduced quality of life and increased risk of falls [4].
There is growing evidence for the use of progressive resistance training (PRT) to improve gait and lower limb muscle strength in PD [5]. The inclusion of other functional tasks, such as balance training, in PRT programmes has also been shown to decrease postural sway, reduce the risk of falls, and improve quality of life [6]. Importantly, functional PRT programmes have been shown to induce neuroplastic changes in the primary motor cortex (M1) of both healthy individuals [7] and people with PD [8]. This is of particular interest, as maladaptive M1 plasticity in patients with PD has been linked to poorer outcomes in motor learning and movement control [9, 10]. Evidence derived from transcranial magnetic stimulation (TMS) studies has demonstrated that patients with PD present with increased cortical excitability and reduced inhibition at rest, which is evidenced by lower motor threshold, increased motor evoked potential (MEP) amplitude, reduced short-interval intra-cortical inhibition (SICI) [10] reduced silent period [11]. Furthermore, reduced intra-cortical facilitation and absence of MEP size increase during contraction suggests defective facilitatory cortical inputs, particularly for movement execution [12]. In addition, the absence of a putative neuroplastic response following paired associative stimulation [13, 14], as compared with healthy control subjects, suggests that the facilitation of M1 plasticity in patients with PD may play an important role in the restoration and maintenance of motor performance.
Transcranial direct current stimulation (tDCS) is a form of non-invasive brain stimulation that has been shown to modulate excitability of the M1 in a polarity-specific manner when applied for short periods (10–20 minutes). When anodal tDCS (a-tDCS) is applied to the M1, there is a transient increase (up to 90 minutes) in excitability and reduction SICI of underlying neurons [15], as well as widespread changes in activation of cortical and subcortical areas [16]. There is substantial evidence to suggest that the application of a-tDCS to the M1 results in improved motor function in healthy populations, including increased performance in skill and strength tasks [17, 18], and this may be especially true when tDCS is applied during concurrent motor practice or training [19].
The use of tDCS as an independent intervention in PD has produced promising results, with evidence for improved working memory and executive function [20, 21], reduced bradykinesia, and increased walking speed following tDCS [22]. Importantly, clinically significant improvements in the motor component of the Unified Parkinson's Disease Rating Scale (UPDRS) have been reported following bilateral a-tDCS of the M1 [23]. A recent pilot study of eight participants reported for the first time that combined gait training and M1 a-tDCS showed promising improvements in walking and balance measurements, but the researchers in that study concluded that larger trials were required to produce definitive results [24].
Given the existing evidence for enhancements in neuroplasticity and motor performance following both PRT and tDCS as independent treatments, it is reasonable to conclude that the combination of these two interventions may further augment functional benefits in patients with PD. Indeed, a combination of a-tDCS and motor training appears to produce a compounding effect on motor performance and neurophysiological adaptations in healthy populations [25, 26] and stroke-affected individuals [27, 28]; however, the application of a-tDCS during PRT and balance training in PD is yet to be investigated.
Methods/design
Aims
The primary aim of this pilot study is to determine the effects of a 6-week lower limb balance and PRT intervention with concurrent a-tDCS on gait, balance, strength and UPDRS motor scores in patients with PD. In addition, we will investigate neurophysiological adaptations in M1 excitability and pre-frontal cortex (PFC) activation as potential underlying mechanisms. It is hypothesised that the combination of PRT and a-tDCS will produce favourable functional motor outcomes and neuroplasticity beyond the effects of PRT alone.
Eligibility and recruitment
The recruitment, screening and randomisation process is shown in Fig.
1
. Potential participants will be recruited on a voluntary basis with the assistance of the Australian Parkinson's Disease Registry and neurology clinics within the Melbourne metropolitan area. All participants will provide written informed consent as well as written approval from their general practitioner before partaking in physical exercise. Prior to enrolment in the study, a series of screening questionnaires will be completed by telephone to determine eligibility.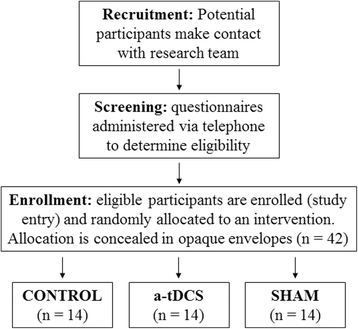 The following inclusion criteria will be applied:
1.

Diagnosed with PD by an independent neurologist

2.

Moderate motor symptoms (score between 2 and 4 on the Hoehn and Yahr scale, as assessed by an independent neurologist and confirmed at initial assessment by a blinded researcher)

3.

Stable drug regime for the full duration of the study and the 6 weeks preceding the study

4.

Self-reported history of one or more falls in the last 24 months

5.

Not currently undertaking a regular exercise programme
Potential participants will be excluded if they present with any of the following:
1.

Severe motor impairments or injuries that will impair the ability to perform lower limb PRT (confirmed at initial assessment by blinded researcher)

2.

Previously diagnosed neurological condition separate from PD (stroke, dementia, epilepsy)

3.

Metal implants in the head (i.e., deep brain stimulator or aneurysm clips), which are contraindicated with non-invasive brain stimulation techniques
Randomisation and blinding
Once recruited, simple randomisation using a computerised sequence generator will be used to allocate participants to one of three study groups (a-tDCS, sham or control). Opaque envelopes will be used to conceal the group allocation, which will not be revealed until after all data have been analysed. A researcher who is otherwise removed from the study will program the tDCS machine before PRT sessions to ensure double-blinding of both researcher and participant. Participants allocated to the control group will be notified of their allocation and will be asked to attend assessment sessions only.
Study overview
The study will run for a period of 9 weeks in total, including a 6-week intervention period and a 3-week follow-up. Participants will be randomly allocated to one of three groups:
1.

a-tDCS (required to perform PRT and balance training while receiving a-tDCS)

2.

Sham (required to perform PRT and balance training while receiving sham tDCS)

3.

Control (to receive standard care)
Exercise sessions will include PRT and balance training for a duration of approximately 40 minutes, and they will be completed on 3 non-consecutive days per week (18 sessions in total). Assessment sessions to evaluate outcome measures will take place at four time points: baseline (T0), mid-intervention at 3 weeks (T3), post-intervention at 6 weeks (T6) and retention at 9 weeks (T9). Assessment sessions will take approximately 3 h and will occur at the same time of day for each time point. All sessions will take place at the Deakin University Burwood campus in a specialised clinical exercise gym and laboratory facility. The control group will receive standard care for the duration of the study and will be required only to attend the assessment sessions. Figure
2
provides an overview of the study time frame and sessions. For the duration of the study, all participants will continue with their usual care and medications as prescribed by their physician. Any changes in medication status during the trial will be documented, and participants will be allowed to continue with the programme.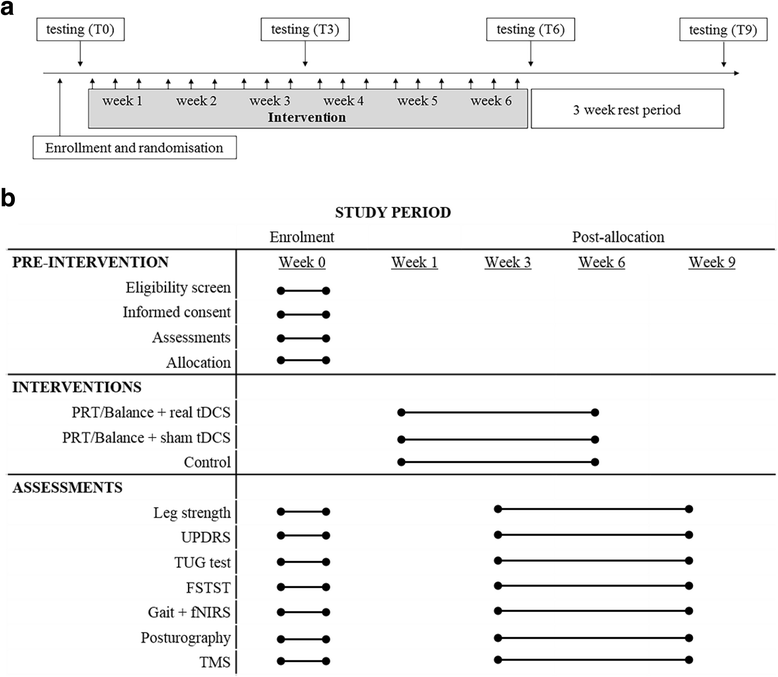 Intervention
Strength and balance training
Participants will be required to attend PRT and balance training sessions at Deakin University Burwood campus three times per week, on non-consecutive days, for 6 weeks. All PRT exercises will be aimed at the lower body and will include the following: leg press performed on fixed pneumatic gym equipment (Air300; Keiser, Fresno, CA, USA) (see Fig.
3
); sit to stand, progressing to body weight squat and addition of weight vest (5, 10 or 15 kg) (see Fig.
4
); standing bilateral calf raise, progressing to unilateral calf raise and weighted vest (se Fig.
5
); and seated unilateral dorsiflexion with free weight dumb-bell (see Fig.
6
).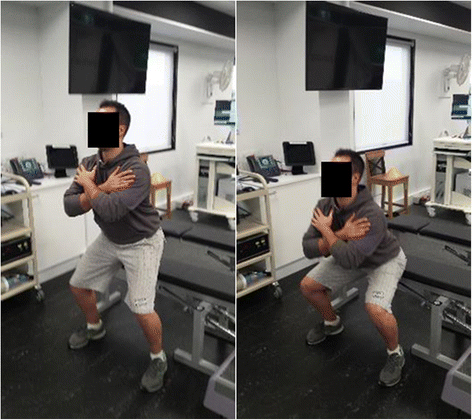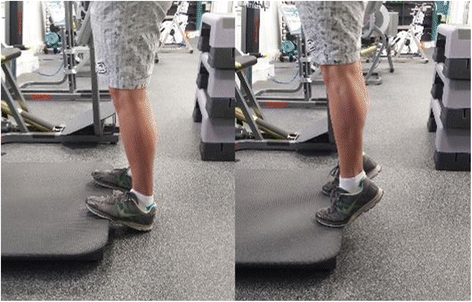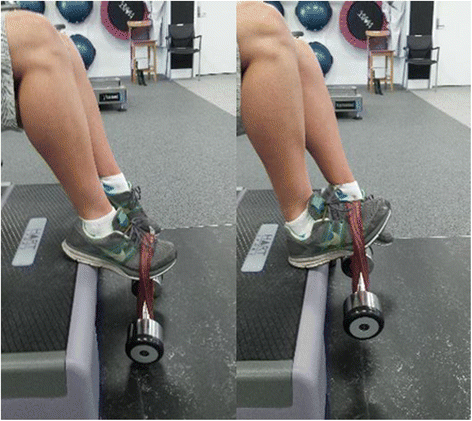 Participants will perform three sets of six to eight repetitions of each exercise, with resistance set at 70 % of their recorded single-repetition maximum (1RM). Repetition timing will be externally paced by an audible metronome consisting of 3-second concentric and 3-second eccentric contractions. For each exercise, resistance will be increased by 5 % when all sets can be completed with correct repetition timing and technique, as assessed by a trained exercise physiologist.
Between each set of exercises, participants will perform a functional balance task:
1.

Tandem stance, 4 × 15 seconds alternating the leading foot

2.

Single-leg stance, 4 × 15 seconds alternating the leading foot

3.

Tandem walk, 3 × 12 steps, heel to toe, in a straight line

4.

Hurdle walk, six laps of four hurdles (height = 30 cm)
Stance tasks will be performed with the assistance of the trainer if required and will be progressed by using unstable foam surfaces, duraDiscs (AOK Health, Newcastle, Australia), performing with the eyes closed, and receiving multi-directional perturbations. Walking tasks will be progressed by performing a concurrent dual task (naming colours, cities, countries, and so forth), adding 1-kg ankle weights, and being instructed to 'pause' and 'reverse' mid-task. Participants will advance to the next progression when the exercise physiologist deems that they can competently complete the task.
Transcranial direct current stimulation
A tDCS Stimulator Model 101 (TCT Research Limited, Hong Kong, China) will be used to deliver a-tDCS and sham tDCS. For a-tDCS, a current of 2 mA will be delivered through two 50-cm
2
electrodes, producing a current density of 0.04 mA/cm
2
. The anode will be soaked in saline and placed centrally over the left and right motor representation of the lower limb, as pre-determined with TMS, and secured with adjustable rubber straps. The cathode will be placed on the right trapezius muscle at the base of the neck, with Ten20 conductive gel (Weaver and Company, Aurora, CO, USA) used to secure the rubber electrode directly onto the skin. Figure
7
demonstrates the electrode montage. Stimulation will commence at the beginning of the training session and will be delivered for a duration of 20 minutes (typically ceasing approximately halfway through the session). Bioelectrical impedance will be monitored throughout the stimulation protocol and will not exceed 55 kΩ. Sham tDCS will involve an identical electrode montage, with stimulation ceasing after a 20-second ramp-up period to provide equivalent scalp sensation. A pseudo-stimulation feature built into the direct current stimulator allows for the device to be pre-programed to deliver sham stimulation while maintaining identical appearance, operation and screen prompts. This was conducted prior to each session by a laboratory assistant, enabling double-blinding of both researcher and participant.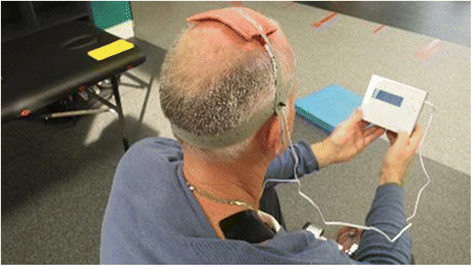 Compliance requirements
Participants will be required to complete a minimum of 16 of the 18 scheduled training sessions (representing >85 % attendance). Testing of outcome measures (T0, T3, T6 and T9) will be completed within 72 h of the scheduled time point, determined from the commencement of the training programme.
Adverse events
All adverse events will be self-reported by the participants at 3, 6 and 9 weeks and assessed by the research staff for seriousness, expectedness and causality following the guidelines recommended by the National Health and Medical Research Council (NHMRC) position statement for monitoring and reporting of safety for clinical trials (https://www.nhmrc.gov.au/guidelines-publications/e112). In this study, an adverse event will be defined as any health-related unfavourable or unintended medical occurrence (sign, symptom, syndrome, illness) that develops or worsens during the period of the trial. Adverse events will be closely monitored until resolution or stabilisation is achieved or until it has been shown that the study intervention is not the cause of the injury. Participants will be asked to contact the research staff immediately in the event of a serious adverse event. Any adverse event sustained during the exercise programme will be recorded by the trainers and immediately reported to the research staff. The chief investigator will be informed of the adverse event and shall determine its seriousness and causality in conjunction with any medical staff treating the event. A serious adverse event that is deemed related to, or suspected to be related to, the exercise intervention will be reported to the ethics committee.
Data management and archiving
All data will be de-identified, coded and stored on a Deakin University server that can be accessed only from password-protected computers. Any physical copies of the data recording sheet will be stored in locked filing cabinets at Deakin University (Burwood). All data will be checked monthly by the chief investigator to ensure that all protocols and ethical guidelines for data collection and analysis are followed. All study-related documents will be archived at Deakin University at the end of the study for a minimum of 6 years, which is in line with current ethical requirements.
Dissemination plan
Findings derived from the primary outcome analysis of this trial will be reported in journal articles, which will include results regardless of the direction or magnitude of the effect. The results will also be presented at leading national and international conferences and clinical forums and to other relevant health professionals and stakeholders, as well as to the participants. All investigators will have the opportunity to be listed as an author of future publications, in accordance with the Australian Government National Health and Medical Research Council guidelines [60].
Sample size calculation and statistical analysis
Gait speed, static balance and UPDRS-III at T6 will serve as primary outcome measures, with all other assessments and time points serving as secondary outcome measures. Based on the effect size observed in a recent study using a-tDCS during walking exercise [24], it is estimated that 42 participants randomised equally to three groups will be needed. Fourteen participants in each intervention group (a-tDCS, sham, control) will provide at least 80 % power to detect a 10–15 % difference in gait speed and static balance (centre of pressure), assuming a 5 % significance level. In functional assessments, a 10–15 % difference equates to an increase of 5.2 points on the UPDRS-III, which indicates a moderate clinically important difference [61].
A two-way, repeated-measures, mixed-design analysis of variance with factors time (T0 vs. T3 vs. T6 vs. T9) and treatment (a-tDCS vs. sham vs. control) will be used to determine any effect of the intervention on balance, gait speed and measures of brain physiology. False discovery rate analysis will be applied to determine when and where significance is found. An alpha level of P < 0.05 will be set to determine significance.
Where possible, we will obtain endpoint measures from all withdrawals and will include all randomised subjects in the final analysis. For participants who are lost to follow-up, missing data will be handled with multiple imputation. As this approach makes an untestable assumption that data are missing at random (i.e., missing data can be predicted from the observed data) [62], we will perform sensitivity analysis to evaluate the effect of potential non-random attrition [63]. Sensitivity analyses will employ simulation and will test a range of scenarios assuming plausible arm-specific differences in outcomes for individuals who were lost to follow-up [64].
Discussion
To our knowledge, this pilot study will be the first randomised controlled trial to combine functional PRT and a-tDCS of the M1 to target balance and gait in people with PD. The study has been designed to elucidate the functional, clinical and neurophysiological outcomes of combined PRT and a-tDCS. It is hypothesised that the combination of PRT and a-tDCS will benefit lower limb strength, postural sway, gait speed and stride variability by a greater magnitude than PRT with sham-tDCS. Further, we hypothesise that PFC activation during dual-task cognitive and gait-and-balance activities will be reduced, and that M1 corticospinal excitability and inhibition will be augmented, following the combined PRT and a-tDCS intervention.
The study is strengthened by a double-blind approach to tDCS stimulation type (a-tDCS or sham), with participants, outcome assessors and exercise supervisors remaining unaware of stimulation type for the duration of the study. Because of the nature of the exercise interventions, participants in the control group cannot be blinded; however, outcome assessors will remain unaware of allocation. The PRT programme used in this study has been developed specifically to target lower limb strength and incorporate functional balance tasks that will maximise gains in mobility and reduce postural sway. All PRT sessions will be conducted one-to-one with an experienced exercise physiologist to ensure each participant will be trained consistently. Progressions will be administered according to individual performance and will be recorded in detail to enable a post-intervention comparison, which will allow us to detect any potential inequality of exercise load between groups. Outcome measures have been carefully selected to enable us to detect functionally and clinically relevant effects of the intervention (UPDRS, TUG, FTSTS, Berg Balance Scale and 1RM lower limb strength tests), as well as to provide sensitive biomechanical analysis with previously validated techniques (step velocity, duration, length, double-support time, stride width and centre-of-pressure travel velocity). Neurophysiological assessments will provide insight into adaptive plasticity that may underpin any changes in functional capability, with TMS used to detect changes in corticospinal excitability and inhibition of the M1 lower limb representation and fNIRS neuroimaging of the PFC used during combined cognitive and motor tasks to quantify changes in PFC activation.
A limitation of this study is the reduced sample size, which has been selected for the feasibility of conducting a one-to-one, 6-week exercise intervention. Despite this, sample size calculations indicate that any clinically significant benefits of combining a-tDCS with PRT will be detected statistically. If successful, pilot data from this study are vital to informing larger-scale clinical trials in patients with PD, and the additional investigation of underpinning neurophysiological mechanisms may also be translated to inform future treatment options for a range of other movement disorders.
The safe and inexpensive nature of a-tDCS is well suited for translation to existing and established PD rehabilitation programmes and services. While current pharmacological treatments in PD provide significant benefits to reduce the impact of some motor symptoms, bradykinesia and impaired postural stability often continue to impact patients significantly [3]. These symptoms have a detrimental effect of the quality of life of patients with PD and contribute to an increased risk of falls [4]. Rates of falls among patients with PD are twice as high as those in the general older population, with 46 % of people with PD experiencing recurrent falls each year [65, 66]. Falls often result in hospitalisation [67] as well as longer-term injuries such as fractures that further restrict physical capability and contribute to a cycle of secondary health complications and a loss of independence [68]. Effective interventions targeting balance and gait will reduce the burden of PD on the individual, family and carers, as well as the healthcare system. We anticipate that the findings of this study will inform large-scale randomised controlled trials aimed at implementing PRT and a-tDCS in community- and home-based settings to treat the motor symptoms of PD.
Trial status
Seventeen participants have completed the protocol in full, and six are currently undergoing PRT. One participant has failed to complete the intervention due to illness. Recruitment of participants is ongoing.
Abbreviations
AMT, active motor threshold; a-tDCS, anodal transcranial direct current stimulation; fNIRS, functional near-infrared spectroscopy; FTSTS, Five Times Sit-to-Stand Test; HHb, deoxygenated haemoglobin; M1, primary motor cortex; MEP, motor evoked potential; MVIC, maximum voluntary isometric contraction; M-wave, maximal compound wave; O2Hb, oxygenated haemoglobin; PD, Parkinson's disease; PFC, pre-frontal cortex; PRT, progressive resistance training; 1RM, single-repetition maximum; RMT, resting motor threshold; sEMG, surface electromyography; SICI, short-interval intra-cortical inhibition; SPIRIT, Standard Protocol Items: Recommendations for Interventional Trials; TA, tibialis anterior; tDCS, transcranial direct current stimulation; TMS, transcranial magnetic stimulation; TUG, Timed Up and Go Test; UPDRS, Unified Parkinson's Disease Rating Scale
Declarations
Acknowledgements
The authors acknowledge the help and support they received from the Australian Parkinson's Disease Registry.
Funding
This project will be funded by the Deakin University Central Research Grants Scheme. WPT and TR are supported by Alfred Deakin post-doctoral research fellowships. PGE is supported by a career development fellowship from the National Health and Medical Research Council (Australia). LJ was supported to conduct this research with Commonwealth Collaborative Research Network funding provided to Victoria University.
Availability of supporting data
All supporting data will be published as supplements together with the main papers in their respective journals.
Authors' contributions
WPT conceptualised the project and obtained funding. AMH drafted the manuscript and was involved in the project design and implementation. AT carried out the project and was involved in drafting the manuscript. TR was involved with analysis of gait and posturographic data. DW was involved in implementation of gait and posturographic tests and collection of data. MM was involved with analysis and interpretation of NIRS data. LJ was involved in the collection and analysis of functional assessments. DJK was involved in analysis and interpretation of TMS data. PGE provided supervision of WPT and input into the project design. All authors helped to draft the manuscript, and all read and approved the final manuscript.
Authors' information
AMH is a lecturer in motor learning at Deakin University. She completed her doctoral degree in 2014 by investigating the use of tDCS to facilitate adaptations to strength training and the cross-facilitation phenomenon. She has a keen interest in understanding how various forms of exercise and brain stimulation can underpin improvements in mood and cognitive function.
AT is a graduate student and exercise scientist currently supervised by WPT at Deakin University. He is focused on developing clinical skills and experience with working with people with neurological disorders.
TR is a lecturer in biomechanics at Deakin University specialising in gait and balance kinematics in healthy and clinical populations. In particular, TR is interested in understanding gait variability in people with cognitive impairments and neurological disorders.
MM is a post-doctoral research fellow at the University of Montpellier who specialises in the application of brain and muscle near-infrared spectroscopy techniques. MM's research is focused on changes in brain activation profiles during gait and dual-tasking in PD.
LJ is a post-doctoral research fellow and exercise scientist at The Florey Institute. He specialises in exercise prescriptions for clinical populations such as stroke and PD. His research is focused on developing optimal exercise guidelines for people with stroke and neurological disorders.
DJK is a senior lecturer at La Trobe University specialising in the central and peripheral changes associated with strength training. His research includes investigating mechanisms that drive neuroplasticity and cross-education after strength training.
DW is a post-doctoral research fellow in biomechanics at La Trobe University. As a former doctoral student of TR, his research is focused on gait variability and balance in healthy and clinical populations.
PGE heads the cognitive neuroscience unit at Deakin University and is an expert in various brain stimulation protocols in people with autism spectrum disorder. PGE provides mentorship for WPT and AMH on several projects and offers advice on the optimal brain stimulation protocol for the present study.
WPT is currently an Alfred Deakin post-doctoral research fellow at Deakin University whose research is focused on understanding maladaptive brain plasticity in Parkinson's disease. His research interests include the use of non-invasive brain stimulation techniques and exercise to improve motor and cognitive function in people with PD.
Competing interests
The authors declare that they have no competing interests.
Consent for publication
Written informed consent was obtained from the patients for publication of this manuscript and any accompanying images. All participants' details will be de-identified and coded to ensure that participants' confidentiality before, during and after the trial will be protected. A copy of the written consent is available for review by the Editor-in-Chief of this journal.
Ethics approval and consent to participate
Written informed consent was provided by the participants prior to the commencement of the study. Ethics approval has been granted by the Deakin University Human Research Ethics Committee (project number 2015-014).
Open AccessThis article is distributed under the terms of the Creative Commons Attribution 4.0 International License (http://creativecommons.org/licenses/by/4.0/), which permits unrestricted use, distribution, and reproduction in any medium, provided you give appropriate credit to the original author(s) and the source, provide a link to the Creative Commons license, and indicate if changes were made. The Creative Commons Public Domain Dedication waiver (http://creativecommons.org/publicdomain/zero/1.0/) applies to the data made available in this article, unless otherwise stated.
Authors' Affiliations
(1)
School of Exercise and Nutrition Sciences, Deakin University, Melbourne, Australia
(2)
Institute for Physical Activity and Nutrition (IPAN), Deakin University, Melbourne, Australia
(3)
EuroMov, University of Montpellier, Montpellier, France
(4)
Clinical Exercise Science Research Program, Institute of Sport, Exercise and Active Living, Victoria University, Melbourne, Australia
(5)
Stroke Division, The Florey Institute of Neuroscience and Mental Health, The University of Melbourne, Melbourne, Australia
(6)
La Trobe Sport and Exercise Medicine Research Centre, School of Allied Health, La Trobe University, Melbourne, Australia
(7)
La Trobe Rural Health School, College of Science, Health and Engineering, La Trobe University, Bendigo, Australia
(8)
Cognitive Neuroscience Unit, School of Psychology, Deakin University, Melbourne, Australia