Review
Open Access
Open Peer Review
This article has Open Peer Review reports available.
Adding a treatment arm to an ongoing clinical trial: a review of methodology and practice
Received: 16 September 2014
Accepted: 31 March 2015
Published: 22 April 2015
Abstract
Incorporating an emerging therapy as a new randomisation arm in a clinical trial that is open to recruitment would be desirable to researchers, regulators and patients to ensure that the trial remains current, new treatments are evaluated as quickly as possible, and the time and cost for determining optimal therapies is minimised. It may take many years to run a clinical trial from concept to reporting within a rapidly changing drug development environment; hence, in order for trials to be most useful to inform policy and practice, it is advantageous for them to be able to adapt to emerging therapeutic developments. This paper reports a comprehensive literature review on methodologies for, and practical examples of, amending an ongoing clinical trial by adding a new treatment arm. Relevant methodological literature describing statistical considerations required when making this specific type of amendment is identified, and the key statistical concepts when planning the addition of a new treatment arm are extracted, assessed and summarised. For completeness, this includes an assessment of statistical recommendations within general adaptive design guidance documents. Examples of confirmatory ongoing trials designed within the frequentist framework that have added an arm in practice are reported; and the details of the amendment are reviewed. An assessment is made as to how well the relevant statistical considerations were addressed in practice, and the related implications. The literature review confirmed that there is currently no clear methodological guidance on this topic, but that guidance would be advantageous to help this efficient design amendment to be used more frequently and appropriately in practice. Eight confirmatory trials were identified to have added a treatment arm, suggesting that trials can benefit from this amendment and that it can be practically feasible; however, the trials were not always able to address the key statistical considerations, often leading to uninterpretable or invalid outcomes. If the statistical concepts identified within this review are considered and addressed during the design of a trial amendment, it is possible to effectively assess a new treatment arm within an ongoing trial without compromising the original trial outcomes.
Keywords
Adding a treatment armFlexible designMulti-arm multi-stageMAMSAdaptive designType I errorFamily-wise error rateStatistical methodologyConfirmatory randomised controlled trialNovel design
Background
Confirmatory clinical trials can take many years to run, requiring considerable resources. During this time, evidence for a new promising treatment may emerge. It may be advantageous to incorporate the emerging treatment into the ongoing trial as a new randomisation arm. This could be done to ensure that the outcomes of trials are relevant at the time of reporting, whilst benefitting patients, funders, trialists and regulatory bodies by shortening the overall process of comparing and selecting experimental treatments; allowing optimal therapies to be determined faster than would otherwise be the case; and reducing costs and patient numbers. In addition, increasing the number of experimental arms increases the probability of a successful treatment [1].
Ongoing treatment advances are continually improving survival rates in many therapeutic areas, including, for example, most types of cancer [2]. The Cancer Research UK (CR-UK) website states that '50% survive 10 or more years' in UK cancer patients. Improving survival times are fantastic for patients, but increase challenges to researchers in continuing to progress and further improve these survival rates within feasible trials settings. New promising treatments are continually being developed and tested in early phase trials, and it is difficult for researchers to address them in confirmatory trials in a timely manner. It is not appropriate to wait for the results of every promising early phase trial in order to design the next large phase III trial since this would delay the research for the currently available treatments. The ability to add new arms to ongoing trials could help to advance the pace of research by allowing emerging therapies to be investigated in populations where trials already exist without introducing competition and by reducing the set-up time for designing a new trial.
The example in Figure 1 illustrates a recent scenario where Treatment A was immediately available for assessment in a large, confirmatory phase III trial in newly diagnosed chronic lymphocytic leukaemia (CLL) patients in the UK. However, a promising Treatment B was undergoing assessment in a phase II trial in the same population against the same standard control group. The phase II trial was shortly due to complete recruitment, but required 12 months of follow-up for the outcomes. The choice was either to delay the assessment of treatment A, therefore denying patients that promising new therapy in a trial setting and delaying the research, or opening the phase III trial and denying treatment B the possibility of a timely phase III investigation in that population. Ideally, the phase III trial assessing Treatment A would be opened now, with Treatment B incorporated at a later time if the phase II evidence was promising.
This review investigates the addition of a new treatment arm to an ongoing trial within the following scope: the trial has already begun recruitment and the randomisation is still open when the new treatment is added, the trial has a confirmatory primary objective, the trial is designed using frequentist methodology (due to the differences in assumptions and considerations with Bayesian methodology), and the entire treatment arm is new rather than an amendment to an existing arm.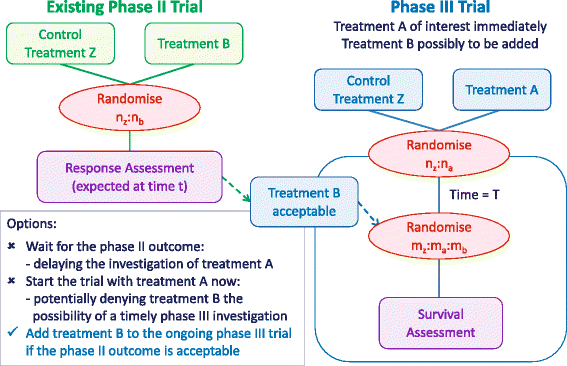 An initial literature review found only a small number of publications that mentioned the concept of adding an arm, and there was no comprehensive research or guidance on how to do this whilst maintaining the statistical integrity of the trial. If the amendment compromises the statistical validity of the trial such that a primary hypothesis cannot be answered, it may render the trial unethical and waste resources.
The aims of this manuscript are to summarise the current literature regarding statistical methods and design considerations when adapting a trial by adding a new treatment midway through recruitment and to investigate trials that have added an arm in practice and how they addressed the statistical considerations.
Conclusions
Recent initiatives in clinical trials are aimed at speeding up research by making better use of scarce resources. For example, the FDA's Critical Path Initiative 'to drive innovation in the scientific processes through which medical products are developed, evaluated, and manufactured' included the production of guidance on adaptive designs to increase the efficiency of studies. In the UK, the National Institute for Health Research Health Technology Assessment (NIHR HTA) programme recently released a call for 'Efficient Study Designs' with a focus on research that 'will demonstrate particular design features to allow either more rapid conduct, or lower costs'. It is clear that there is the demand to improve the efficiency of clinical trials in order to speed up the overall process of getting the best therapies to patients. If a suitable treatment emerges whilst a trial in a similar population is ongoing, there would be many advantages to modifying the existing trial by adding the new arm, as long as the statistical considerations are addressed appropriately.
This literature review has confirmed that very few publications have addressed the topic of how to add a treatment arm to an ongoing trial, and none have done so either systematically or comprehensively.
Only a very small number of trials were identified to have added arms in practice, indicating that although this type of amendment may be advantageous, it is very rarely implemented. Of the trials that had added an arm, some failed to adequately address the statistical issues and suffered from lack of power and difficulties of interpretability. However, it is clear that this type of amendment is desirable and advantageous, with the statistical and logistical issues seeming by no means insurmountable.
Guidance is needed to allow amendments that add new arms to existing trials to be made only with robust statistical integrity. The benefits in cost, time and patient resource savings from such amendments are clearly very substantial; and therefore further methodological work in this area is the subject of current research, so that the addition of new arms to existing trials can, in the future, be recommended and encouraged.
Abbreviations
CLL:

chronic lymphocytic leukaemia, a cancer of the white blood cells
CR-UK:

Cancer Research UK
DMC:

data monitoring committee
EMEA:

European Medicines Agency
FDA:

US Food and Drug Administration
FWER:

family-wise error rate
HTA:

NIHR Health Technology Assessment
MAMS:

multi-arm multi-stage
NHS:

National Health Service
NIHR:

National Institute for Health Research
PhRMA:

Pharmaceutical Research and Manufacturers of America
PSI:

Statisticians in the Pharmaceutical Industry
PWER:

pairwise error rate
TSC:

trial steering committee
UKCRC:

UK Clinical Research Collaboration
Declarations
Acknowledgements
DRC is funded by a National Institute for Health Research Doctoral Research Fellowship. This paper presents independent research funded by the National Institute for Health Research (NIHR). The views expressed are those of the authors and not necessarily those of the NHS, the NIHR or the Department of Health.
Authors' Affiliations
(1)
Leeds Institute of Clinical Trials Research, University of Leeds, Leeds, UK
(2)
Department of Mathematics and Statistics, University of Reading, Reading, UK
Copyright
© Cohen et al.; licensee BioMed Central. 2015
This article is published under license to BioMed Central Ltd. This is an Open Access article distributed under the terms of the Creative Commons Attribution License (http://creativecommons.org/licenses/by/4.0), which permits unrestricted use, distribution, and reproduction in any medium, provided the original work is properly credited. The Creative Commons Public Domain Dedication waiver (http://creativecommons.org/publicdomain/zero/1.0/) applies to the data made available in this article, unless otherwise stated.