Study protocol

Open Access

Open Peer Review
This article has Open Peer Review reports available.
Design paper: The CapOpus trial: A randomized, parallel-group, observer-blinded clinical trial of specialized addiction treatment versus treatment as usual for young patients with cannabis abuse and psychosis
Received: 30 April 2008
Accepted: 11 July 2008
Published: 11 July 2008
Abstract
Background
A number of studies indicate a link between cannabis-use and psychosis as well as more severe psychosis in those with existing psychotic disorders. There is currently insufficient evidence to decide the optimal way to treat cannabis abuse among patients with psychosis.
Objectives
The major objective for the CapOpus trial is to evaluate the additional effect on cannabis abuse of a specialized addiction treatment program adding group treatment and motivational interviewing to treatment as usual.
Design
The trial is designed as a randomized, parallel-group, observer-blinded clinical trial. Patients are primarily recruited through early-psychosis detection teams, community mental health centers, and assertive community treatment teams. Patients are randomized to one of two treatment arms, both lasting six months: 1) specialized addiction treatment plus treatment as usual or 2) treatment as usual. The specialized addiction treatment is manualized and consists of both individual and group-based motivational interviewing and cognitive behavioral therapy, and incorporates both the family and the case manager of the patient.
The primary outcome measure will be changes in amount of cannabis consumption over time. Other outcome measures will be psychosis symptoms, cognitive functioning, quality of life, social functioning, and cost-benefit analyses.
Trial registration
ClinicalTrials.gov NCT00484302.
Keywords
Cognitive Behavioral Therapy
Assertive Community Treatment
Community Mental Health Center
Assertive Community Treatment Team
Cannabis Abuse
Background
A recent meta-analysis of eleven longitudinal studies concluded that cannabis use is associated with increased risk of lasting psychotic conditions later in life [1]. Assuming causality, as much as 800 annual cases of schizophrenia are preventable in the UK if exposure to cannabis was eliminated [2]. Several studies have shown that use of cannabis increases the risk of developing schizophrenia-like symptoms, especially in young men disposed to developing psychosis [3–10]. Furthermore, use of cannabis among patients with psychosis can maintain and worsen the psychotic symptoms [11–15], and comorbid schizophrenia and substance abuse is associated with lack of compliance to treatment and with more rehospitalizations [15–20]. This indicates both that effective interventions to limit cannabis use in persons with psychosis are needed, and that getting patients to follow such interventions may be difficult.
A randomized trial showed that the combination of cognitive behavioral therapy, motivational interviewing [see [21]], and family involvement had a significant positive effect on level of functioning, psychotic symptoms, and duration of periods of cannabis-abstinence, compared with regular treatment [22]. This finding has been supported by two reviews, concluding that positive evidence exists for integrated treatment with motivational interviews, cognitive behavioral therapy (individual or group-based), and a harm-reduction approach [23, 24]. Group-based treatments are arguably less expensive, and in a literature review, Weiss et al. concluded that specialized group therapy could reinforce the effect of an existing treatment [25]. However, there is currently insufficient evidence to show that group-based interventions for cannabis use are superior to individual treatment [26, 27]. Similarly, authors of a recent Cochrane review concluded that insufficient evidence exists to show that any psychosocial treatment method for comorbid schizophrenia and substance abuse is superior to others [28].
Objectives of the CapOpus trial
We plan to undertake a trial in which combined group-based and individual treatment, incorporating motivational interviewing, psycho-education, cognitive behavioral therapy, and social skills training in addition to treatment as usual, is compared with treatment as usual. The primary outcome will be change in number of days abstinent from cannabis within the preceding 30-day period as measured with the Time-Line Follow Back (TLFB) instrument [29, 30].
Methods
The trial is designed as a two-armed, parallel-group, observer-blinded randomized clinical superiority trial (Figure
1
). Patients will receive either specialized CapOpus treatment or treatment as usual, as described below.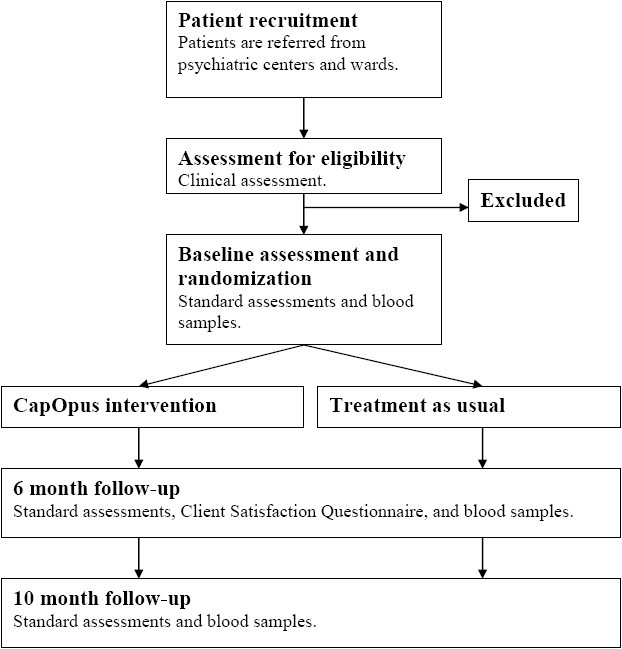 Discussion
The centralized randomization procedure offers strengths to the CapOpus trial by reducing the risk of selection and allocation bias [71, 72]. The outcome assessments are blinded with the intent of being unbiased [71, 72]. The planned intense follow up of patients coupled with intention-to-treat analyses should guard against attrition bias [71, 72]. Also, the broad array of outcome estimates allows us to measure effects of treatment in many areas of life.
Apart from gathering evidence about best practice in treatment of cannabis abuse among young people with psychosis, the study will allow us to validate the TLFB measurement tool for cannabis against blood samples, something that to our knowledge has not been done previously.
Hopefully, the CapOpus intervention will carry positive effects. If this is so, this could substantially improve treatment of these patients. On the other hand negative consequences cannot be ruled out. The extra interventions in the experimental arm may potentially cause more patients to drop out from usual treatment. Should this occur, the addiction consultants in CapOpus will actively support the patients in resuming contact with the case managers.
Our trial may have several limitations. First, it is a rather small trial aiming at demonstrating a substantial intervention effect. In a sense, our trial may be viewed as a pilot for potentially larger trials at a later stage. Second, the large number of outcomes makes interpretation of significant findings difficult. Accordingly, our interpretation of significant findings at or close to the conventional level of p = 0.05 will be conservative. One further limitation of the trial is that there may be a crossover relating to the patients' case-managers. Due to the randomization procedure, the same case manager may have patients in both the experimental intervention and the control treatment arms. This spawns the risk that elements from the experimental intervention are incorporated into the treatment of patients in the control arm, potentially leading towards type II errors. It will be attempted to bypass this limitation by investigating outcome differences between control-group patients whose case managers also have patients in the CapOpus experimental intervention arm, and those whose case managers do not.
The fact that the current treatment in Denmark is not uniform is reflected in the control treatment, as no attempts will be made to artificially introduce a level of homogeneity in this intervention arm. This may, however, lead to a degree of selection bias if only a small proportion of eligible case managers actually refer patients to the trial. Results will be interpreted accordingly.
Declarations
Acknowledgements
The trial has received funding from The Lundbeck Foundation, The Municipality of Copenhagen, The Egmont Foundation, Aase and Ejnar Danielsen's Foundation, the Wørzner Foundation, and The Health Insurance Foundation. Neither current nor future sponsors of the trial will have any role in trial design, data collection, data analysis, data interpretation, or in publication of data from the trial.
Authors' Affiliations
(1)
Psychiatric Center Bispebjerg, Faculty of Health Sciences, Copenhagen University, Copenhagen, Denmark
(2)
Center for Clinical Intervention Research, Copenhagen Trial Unit, Rigshospitalet, Copenhagen University Hospital, Copenhagen, Denmark
(3)
Centre for Psychiatric Research, Institute of Clinical Medicine, University of Aarhus, Aarhus, Denmark
Copyright
© Hjorthøj et al; licensee BioMed Central Ltd. 2008
This article is published under license to BioMed Central Ltd. This is an Open Access article distributed under the terms of the Creative Commons Attribution License (http://creativecommons.org/licenses/by/2.0), which permits unrestricted use, distribution, and reproduction in any medium, provided the original work is properly cited.