Study protocol
Open Access
Open Peer Review
This article has Open Peer Review reports available.
The STRIDE (Strategies to Increase confidence, InDependence and Energy) study: cognitive behavioural therapy-based intervention to reduce fear of falling in older fallers living in the community - study protocol for a randomised controlled trial
Received: 7 February 2014
Accepted: 8 May 2014
Published: 6 June 2014
Abstract
Background
Around 30% to 62% of older individuals fall each year, with adverse consequences of falls being by no means limited to physical injury and escalating levels of dependence. Many older individuals suffer from a variety of adverse psychosocial difficulties related to falling including fear, anxiety, loss of confidence and subsequent increasing activity avoidance, social isolation and frailty. Such 'fear of falling' is common and disabling, but definitive studies examining the effective management of the syndrome are lacking. Cognitive behavioural therapy has been trialed with some success in a group setting, but there is no adequately powered randomised controlled study of an individually based cognitive behavioural therapy intervention, and none using non-mental health professionals to deliver the intervention.
Methods/Design
We are conducting a two-phase study examining the role of individual cognitive behavioural therapy delivered by healthcare assistants in improving fear of falling in older adults. In Phase I, the intervention was developed and taught to healthcare assistants, while Phase II is the pragmatic randomised controlled study examining the efficacy of the intervention in improving fear of falling in community-dwelling elders attending falls services. A qualitative process evaluation study informed by Normalization Process Theory is being conducted throughout to examine the potential promoters and inhibitors of introducing such an intervention into routine clinical practice, while a health economic sub-study running alongside the trial is examining the costs and benefits of such an approach to the wider health economy.
Keywords
Fear of fallingFallsEldersCommunityRandomised controlled trialCognitive behavioural therapyComplex interventionNormalization process theory
Background
Falls are common, frequently devastating events for older people, with between 30% and 62% of older individuals falling per year [1, 2]. Falls are responsible for considerable morbidity and mortality, with around 10% of falls resulting in fractures [1]. The cost of falls to the UK economy is estimated at £981 million [3], with more recent data showing that 0.07% to 0.20% of the gross domestic product and 0.85% to 1.5% of total healthcare expenditure in western economies was accounted for by falls and their consequences [4]. Adverse consequences of falls are by no means limited to physical injury and escalating levels of dependence. Many older individuals, both fallers and non-fallers, experience a variety of adverse psychosocial difficulties related to falling [5–15] including fear, anxiety, loss of confidence, and impaired self-efficacy (the self-perception of ability to perform within a particular domain of activities) [9, 12] resulting in activity avoidance, social isolation and increasing frailty [5–15]. The umbrella term for these problems is 'fear of falling', a common and disabling problem in older individuals, found in between 3% and 85% of community-dwelling elders who fall, and up to 50% of those who have never fallen [7–9, 15].
The optimal management strategy for fear of falling and its adverse physical and psychosocial sequelae is poorly understood. Much previous research has focused on physical treatments including home- and community-based exercise interventions, tai chi and multifactorial interventions aimed at reducing fall rates, with fear of falling reported as a secondary outcome in the majority of these studies [7]. A recent systematic review found 12 high-quality randomised controlled trials (RCTs) reporting effects on fear of falling in such studies, but only one primarily aimed at reducing fear of falling [15]. The interventions were conducted across a variety of settings, but home-based exercise, community tai chi and home-based multifactorial interventions all improved fear of falling [7], though a recent geriatric outpatient-based multifactorial intervention study found no such benefit [16].
While such physical interventions may be of benefit in selected populations, the profile of the disorder and its psychosocial complications suggest that well-designed psychological interventions may help ameliorate fear of falling more definitively. Several studies have examined an explicitly cognitive behavioural therapeutic (CBT) approach in fear of falling in community-dwelling elders, or used CBT techniques as part of a wider intervention strategy. Tennstedt et al.'s Matter of Balance study assessed the ability of an eight-session, 4-week group CBT with exercise instruction to improve fear of falling and related activity restriction [17]. Significant differences between intervention and control groups were seen in fear of falling as measured by the Falls Efficacy Scale (FES) [12] and activity during follow-up. The magnitude of improvement in FES scores attenuated over time, prompting the authors to suggest a booster session should be used in future studies and in clinical practice [17]. Clemson et al. similarly used what they described as a 'small-group learning environment' (though in practice, some of the methods used included CBTs) of 12 individuals per group for 2 hours per session over 7 weeks to improve self-efficacy and reduce falls [18]. The intervention incorporated a variety of learning strategies to facilitate behaviour change, including education regarding exercises to improve falls risks, medication and home environmental review and medication management [18]. There was a 31% reduction in falls (relative risk 0.69, 95% CI 0.50 to 0.96, P = 0.025) in the intervention group, though interestingly there was no corresponding change in FES scores [18]. More recently, Zijlstra and colleagues conducted a RCT of a multicomponent cognitive behavioural group intervention in older community-dwelling elders [19]. Five hundred and forty participants were drawn from a random sample of 7,431 individuals who reported (through self-report questionnaires) 'at least some fear of falling', though the precise method of assessment was not specified. Following randomisation, the intervention group underwent a structured 2-hour group CBT intervention based on the investigators' previous work once weekly for 8 weeks, with booster sessions 6 months following the last session. A primary outcome was not specified, and while a power calculation was supplied based on a 'difference of 2.5 points', the authors fail to specify on which scale. The beginning of the trial predates widespread use of the FES-International version (FES-I) [20] (later advocated by the same group as the most appropriate measure for such studies [7]), instead using a single item question on fear of falling as well as an unspecified scale, likely to be the original FES from the description and reference supplied [19]. Other outcomes included perceived control over falling and daily activity as well as falls. There were no measures of physical function despite the prior evidence base suggesting improvement in fear of falling with the exercise-related measures as described above. All outcomes showed significant differences between control and intervention groups at 2 and 8 months follow-up, with between-group differences persisting at 14 months in fear of falling and perceived control over falling but not in the other outcome measures. There was a 30% attrition rate in the intervention group and 19.6% attrition rate in the control group [19]. The study intervention was carefully developed and grounded in CBT, but interpretation and application is hampered considerably by the lack of clarity on sample size calculation and outcome measures and the absence of generic quality-of-life measures and measures of physical functioning. Importantly, there is also no health economic analysis [19] to guide commissioners and providers of healthcare, crucial in this context because of the size of the clinical problem.
Fear of falling is thus a common, disabling and debilitating condition in older adults but the current understanding of its management is limited. There is a small evidence base to support the use of some physical therapies to improve the syndrome, and promising early data from a few studies supporting the use of psychological therapies, in particular CBT. The cognitive behavioural model [21] of a problem situation being maintained by an interaction between physiological, behavioural, cognitive and affective responses is paradigmatic for fear of falling, and offers the hope of a viable therapeutic option. Previous studies are hampered by the factors already described, while the issue of the economic viability of such a treatment has yet to be explored.
There is a need for many more trained cognitive behavioural therapists than are currently available; the development of a cognitive therapeutic package for the management of fear of falling that can be delivered routinely by non-specialist staff such as healthcare assistants (HCA) is vital if this common and debilitating condition is to be tackled effectively. CBT can be delivered by suitably trained non-psychotherapist staff [22, 23], but to the best of our knowledge, this approach has not been attempted in a RCT in this context previously. In addition, only group interventions have been studied so far, with therapy delivered on a one-to-one basis yet to be tested in a fear of falling cognitive behavioural intervention study.
Understanding the dynamics of developing, delivering and trialling a novel intervention as a process is useful because it will contribute to understanding the professional and organisational factors that promote or inhibit adherence to treatment protocols and intervention delivery; and how practical and methodological problems are defined, understood and resolved by the project team in the course of the study. The need for understanding the dynamics of complex interventions [24], and undertaking process evaluation is now well understood [25]. Such work is important to underpin the transportability, workability, and integration of interventions into routine clinical practice. In the case of this trial, our aim is to collect longitudinal ethnographic data that will help us to understand the social processes and relationships that lead the intervention and trial to take a particular shape and direction. In earlier studies of trials and other interventions, May and Finch developed a robust explanatory model of normalization processes [26] that defines psychological and sociological mechanisms of behaviour and action that have been empirically demonstrated to be important in the implementation of complex interventions, and that have been revealed by evaluation in randomised controlled clinical trials. This approach is vital for the understanding and more widespread adoption of such an intervention.
In summary, we aim to develop a cognitive behaviour-based intervention to be delivered by HCAs on a one-to-one basis to community-dwelling older individuals attending falls services with an excessive or undue fear of falling and then to conduct a randomised controlled study of this intervention plus usual multidisciplinary care versus usual multidisciplinary care alone. Our study, incorporating a qualitative process evaluation and economic evaluation alongside a patient RCT, will answer definitively the question of whether an enhanced intervention to reduce the fear of falling for community-living older people would be effective and cost effective in reducing anxiety through its rigorous design and carefully chosen primary and secondary outcome measures, while assessing the cost and outcomes of such an intervention.
Methods
The study is divided into two distinct phases, the first developing the novel cognitive behavioural therapy-based intervention (CBTI) and the second the RCT assessing the effectiveness of the intervention in reducing fear of falling. Qualitative and health economic studies straddle the two phases (Figure
1
).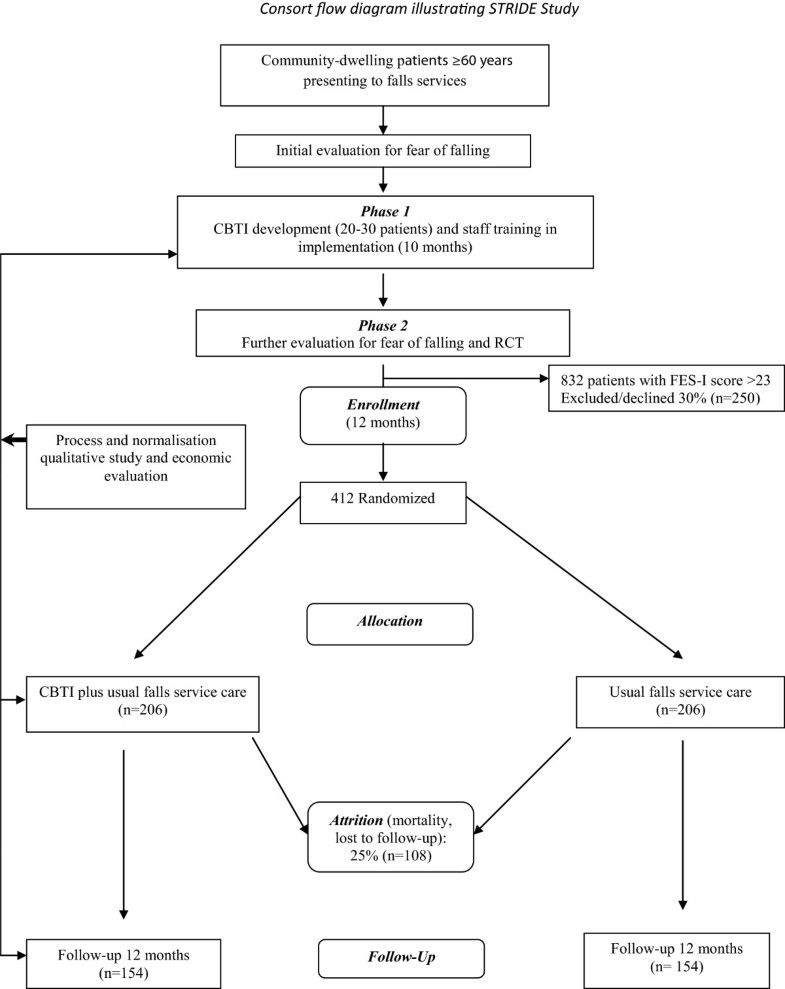 Discussion and trial status
Phase I of the study was completed successfully, with the development of training materials and successful recruitment and training of the HCAs in delivering the CBTI to time and target. Despite pre-study qualitative work suggesting an appropriate timetable for recruitment, Phase II began to run into recruitment problems from an early stage. A recovery plan was put in place following qualitative interviews with potential study participants, actual participants, carers and staff members to identify barriers and promoters of recruitment. With the assistance of the TSC and agreement with the DMEC and the funder, NIHR HTA, alongside appropriate permissions and approvals, two further sites to the original single study site were brought on board. A 7-month extension to the study was granted, with the desired outcome of the appropriate recruitment target within reach at time of writing.
The CBTI has uncovered interesting insights into fear of falling that will be of use to researchers trying to improve this nebulous and limiting condition regardless of the outcome of the RCT. The use of non-mental health practitioners in this role has been studied previously with our experience in this study reinforcing the potential for suitably trained and supervised HCA assistant grade staff to perform such therapies. This has clear implications for cash-strapped health providers with a relatively small base of clinical psychologists and therapists available to manage such ubiquitous clinical problems. Similarly, the process evaluation has already yielded important observations that will be of use to researchers and those implementing healthcare innovations.
Authors' information
SWP is a senior lecturer and consultant geriatrician with extensive experience in falls from both clinical and research perspectives. VD is a clinical psychologist and senior lecturer in psychology with experience of both cognitive behavioural therapy, and its implementation by non-mental health professionals. NSa is a clinical psychologist with particular expertise in the older patient. EM is director of the Newcastle Clinical Trials Unit while NSt is senior research associate in statistics with extensive experience of falls-related randomised controlled trials. TF and CB are highly experienced qualitative researchers with particular expertise in process normalization theory, while PM is a senior research associate in health economics with extensive experience of falls health economic evaluation. AC is chief executive of North Tyneside Age UK, while JO'B is professor of old age psychiatry with extensive experience of clinical research in the older patient with mental health problems. SW is an expert in balance confidence issues affecting the older person, with particular clinical and research expertise in function measures of physical performance in older age, while CM is the trial manager who contributed to protocol writing and design.
Abbreviations
CBT:

cognitive behavioural therapy
CBTI:

cognitive behavioural therapy-based intervention
DMEC:

data monitoring and ethics committee
EQ-5D:

Euroquol 5-dimension health questionnaire
FES:

Falls Efficacy Scale
FES-I:

Falls Efficacy Scale - International version
HADS:

Hospital Anxiety and Depression Scale
HCA:

healthcare assistant
MMSE:

Mini-Mental State Examination
NIHR HTA:

National Institute of Health Research Health Technology Assessment
QALY:

quality-adjusted life year
RCT:

randomised controlled trial
SPPB:

Short Physical Performance Battery
SF-6D:

Short Form 6-dimension health survey
TSC:

trial steering committee
WHOQOL-OLD:

WHO Quality of Life questionnaire-older adults module.
Declarations
Acknowledgements
The authors would like to acknowledge the contribution of Ruth Pearce, Pat McCue and Helen Walker to the design of the case report forms and other study materials, Ruth Pearce for her careful review of social isolation measures, Ruth Pearce, Pat McCue, Emma McLellan and Christie Morley for data collection and the STRIDE therapists (David Green, Vicki Strassheim and Charlotte Dunkel) for their contribution to the design and implementation of CBTI materials and methods. We would also like to acknowledge the contribution of staff at the participating falls services and at Age UK North Tyneside, and to Mehda Singh, Arthur Affleck, Louise Sutcliffe, Sandra Davies and Aaron Jackson for their assistance with recruitment. In addition, we are grateful to the trial steering and data monitoring and ethics committees (see above for memberships) for their support, important suggestions and constructive criticism in equal measure. The study is funded in full by the NIHR HTA programme, grant number HTA 09/70/04.
Authors' Affiliations
(1)
Institute for Ageing and Health, Newcastle University, c/o Falls and Syncope Service, Royal Victoria Infirmary, Newcastle upon Tyne, UK
(2)
Department of Psychology, Northumbria University, Newcastle upon Tyne, UK
(3)
Institute of Health and Society, Newcastle University, Newcastle upon Tyne, UK
(4)
Newcastle University, Newcastle upon Tyne, UK
(5)
Department of Psychiatry, University of Cambridge School of Clinical Medicine, Bradbury Centre, Cambridge, UK
(6)
Age UK North Shields, North Shields, UK
(7)
University of Pittsburgh, Pittsburgh, USA
Copyright
© Parry et al.; licensee BioMed Central Ltd. 2014
This article is published under license to BioMed Central Ltd. This is an Open Access article distributed under the terms of the Creative Commons Attribution License (http://creativecommons.org/licenses/by/4.0), which permits unrestricted use, distribution, and reproduction in any medium, provided the original work is properly credited. The Creative Commons Public Domain Dedication waiver (http://creativecommons.org/publicdomain/zero/1.0/) applies to the data made available in this article, unless otherwise stated.